When you're looking to enjoy a good quality, barista-style cup of coffee at home, you can't go wrong with a bean to cup machine. That is unless you opt for the cheapest one, made with shoddy and unstable components that don't stand the test of time.
In order to achieve the level of beauty that a coffeeshop espresso possesses, sporting a lovely, thick layer of crema every single time, you need equipment that's up to the job. Otherwise, you might as well just stick with instant!
Never fear, caffeine-seekers. We've got a list of five fantastic automatic coffee machines, each one able to provide you with an aromatic, freshly prepared mug or pot of whatever you want to drink. Revolutionise your morning cup of joe!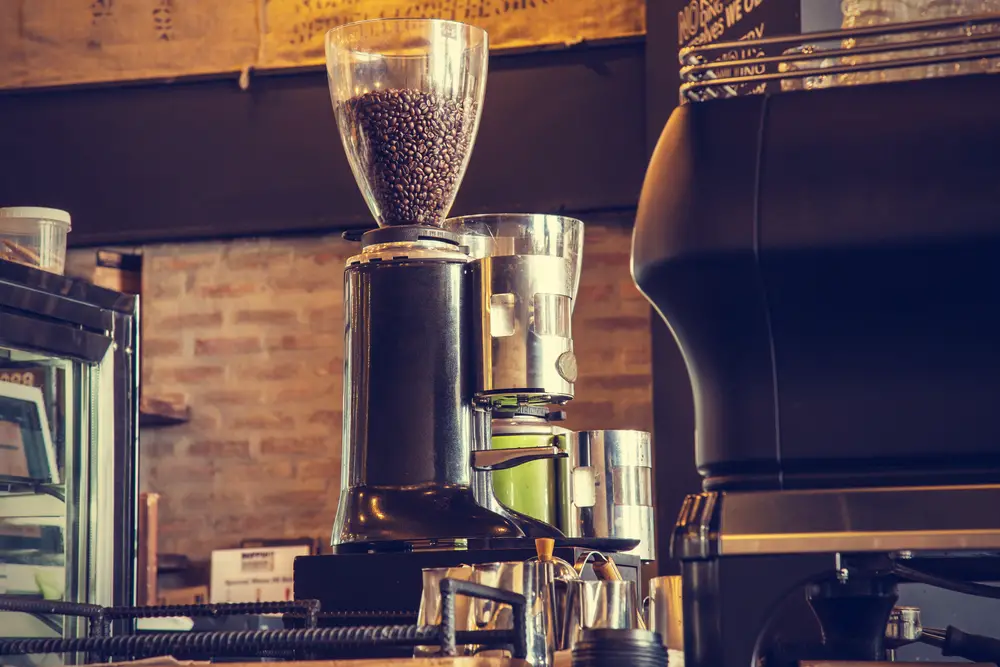 Best Bean To Cup Coffee Machine
For coffee fans on a budget, you'll find the Cuisinart's 24-hour programmable, 10-cup coffee maker is perfect for brewing a pot of delicious, freshly ground coffee. There's even a Grind Off feature, so you can use your favorite pre-ground, too!
Grinding beans right before brewing to ensure your coffee is as fresh as possible, you won't need an alarm clock anymore – it's totally automatic, so every morning can start with a pot of coffee, programmable to whatever time suits you.
A clear LED control panel allows you to perform every task without a problem. An audible tone sounds five times once the coffee has finished brewing, with an Auto-Shutoff tone that dings to alert you the machine is going into standby mode.
Maintenance is easy thanks to the separate grinder chamber and removable filter area, designed specifically for a simple cleaning experience. This bad boy should last for years to come with no trouble at all so long as you take care of it.
Also included are a commercial goldtone filter and an additional charcoal water filter, both of which work to remove impurities from your tap water so you can enjoy the freshest, most aromatic brews unaffected by hardness or limescale.
Pros:
Fitted reservoir cover flips back for easy filling, removes for simple cleaning

1–4 cup selector improves extraction and flavour when preparing less than 4 cups

Grind and Brew Auto features an insulated thermal carafe, which keeps your coffee hot and fresh for hours
24-hour programmable auto-start function
Cons:
No milk frothing capabilities 
Sleek, stylish, and beautiful on your kitchen counter, the impressively compact Evoke Grind and Brew machine from tech giants Morphy Richards is equally as impressive as their other gadgets and won't compromise on your coffee's flavor.
A high-quality, integrated bean grinder automatically prepares your coffee beans just before brewing, so you always get the freshest tasting cup you deserve. If you'd rather use pre-ground, that's fine too: the world is your oyster!
The clever timer function works using an LCD display, so you can pre-program this machine to pour you a pot of coffee at a time that suits you. Want to wake up to the smell of a freshly brewed cup of delicious caffeine? Now you can!
Always know when you need a refill with the clear and clever water level indicator, so you never over or underfill – the included heat resistant glass carafe sits on a hotplate, so your coffee is constantly warming until you're ready to drink it.
Though it only provides two cups at once, it's the perfect miniature machine for small starter homes and college dorm rooms: you don't have to resort to the instant kind just because you haven't got the room for a giant barista-style machine to use!
Pros:
Three in one machine with multiple ways to prepare coffee
Small but mighty with two cup capacity
Warm your coffee for half an hour with the Keep Warm function
Permanent integrated filter to prevent hard water from ruining your coffee
Cons:
No milk frothing capabilities
Moving up in price, here is the Sage Barista Espresso machine. Capable of precise, dose control grinding, an integrated precision conical burr grinder works on-demand to add exactly how much coffee is needed directly into the portafilter.
Ensuring the optimal water pressure for ideal espresso extraction, the low-pressure pre-infusion technology slowly increases pressure as the brew is extracted, allowing for an even drawing out of all of those beautiful coffee flavors.
Digital PID heat controls deliver optimally heated water at exactly the right temperature to extract the best possible espresso, rivaling the quality of those you'd buy at your local coffee shop. Go from bean to cup faster than ever before!
Want a latte, cappuccino, or even a flat white? The powerful, built-in steaming wand lets you hand texture micro foamed milk, allowing you the opportunity to practice latte art pouring from the comfort of your home.
Pros:
Precise espresso extraction according to all optimum states: water temperature, time, amount of coffee

Micro-foamed milk texturing for the budding at-home barista

Button controls and dials for instant coffee
Cons:
Milk must be frothed by you – requires skill to get right, isn't "automatic"
Okay, this one is definitely fancy, but what do you expect from De'Longhi. Their coffee machines scream extravagance and the Dinamica Automatic is no different, taking you from beans to a beautiful latte in one touch of a button.
Using the impressive touch screen menu function, choose from eighteen different espresso and specialty coffee menus, allowing you to brew up espressos, cappuccinos, flat whites, and even iced lattes, just about instantly.
The integrated conical burr grinder allows you to fully customize your brew with thirteen adjustable settings, so you can achieve a fine, even grind every time. Every extraction will protect those precious oils and coffee aromas.
An adjustable and self-cleaning milk frother system automatically takes your preferred milk to the ideal texture or density for whichever espresso-based drink you'd like, even working well with oat, soy, almond, and other dairy-free beverages.
Plus, there are no annoying lengthy wait times between making multiple drinks, as the Dual Heating System allows you to grind and froth milk simultaneously. The boiler is always at temperature and waiting to brew for you!
Pros:
Makes almost twenty different barista-quality drinks with one button

Patented LatteCrema milk frothing system delivers perfect milk

Save and store ideal coffee preparation recipes with the My Menu function

Preprogramme strengths, sizes, and how much milk you'd like
Cons:
Incredibly expensive – a worthy investment for coffee fanatics
Combining three methods of coffee preparation to give you access to espresso, filter coffee, and pod capsules, all from one simple to use machine, the Breville All-In-One is surprisingly affordable given the amount of choice it affords the user!
Authentic, barista-style espresso is just a few moments away, thanks to the good quality, 15-bar pump pressure of the machine, which creates a full-bodied shot that always comes topped with rich, velvety-smooth crema, as it should.
As part of your purchase, you'll receive a stainless steel carafe, with enough capacity for up to ten cups of coffee at once. Its thermal, heat-retaining properties ensure that even if you get distracted, there will always be hot coffee waiting for you after.
An incredible auto-detect functionality instantly reads which attachment is in use, displaying the appropriate drink choices on the integrated LCD screen – the dial allows you to quickly choose between brewing coffee or steaming up a jug of milk.
The attractive design is clever and compact, despite being able to accommodate the majority of travel cups and mugs – the elevated cup stand also minimises any splashing when you're preparing shots of espresso, for the perfect pour every time.
 Pros:
1.5 litre carafe keeps coffee hot
Compatible with all Dolce Gusto capsules so you can enjoy any drink from their 40-strong collection
Barista-quality drinks at an affordable at-home price
Smart water system automatically dispenses the correct amount
Cons:
Could have used stronger materials than plastic for a more durable design
Buyer's Guide
What is a bean to cup coffee machine, exactly?
In the most basic terms, a bean to cup machine is a coffee maker that is simply filled with whole coffee beans, instantly grinding them as coarse or as fine as you'd like, in order to prepare you an espresso… just by hitting a button.
As long as there are beans in the burr mill (a fancy word for the part of the coffee grinder that holds them), you'll be able to whip up a cup whenever you feel like it, without the necessary skills usually required.
Some are also able to make other drinks, such as cappuccinos, lattes, and other coffee shop favorites, with an automatic frother that produces a pitcher of perfectly foamed milk without any effort on your part.
These are very different from the espresso machines you'll see baristas using down at the coffee shops, as those require knowledge of how to use a steaming wand, portafilter, and coffee grinder, which the average person does not possess!
However, for those who aren't able to commit time to barista training, or don't really care about achieving the perfect latte art on their flat whites, it's not going to be that big a difference – and will be much cheaper – to settle for a bean to cup setup.
Features to look out for:
Size and style
Ensuring the machine you pick will fit on the countertop in your kitchen – or wherever you're planning to put it – is important. These things are bigger than your average coffeemaker and will take up a lot more space than you're expecting… usually.
Some of the contemporary, more impressive machines are sleek and svelte, taking a minimalist approach to coffee production. If this sounds more like you, be prepared to shell out a couple of hundred bucks extra for the aesthetic!
Ease of maintenance
Although the machine can make coffee automatically, it's still up to you as the user to take care of it, ensuring it stays in tip-top condition. Failure to regularly clean and maintain your coffee maker and that espresso is going to start tasting sad very soon.
That being said, there are some machines that make your life easier, with automatic cleaning functions that autonomously drain off and filter the components. You'll still need to give everything a rinse and wipe, but it won't be as difficult.
Drink personalization
On the best and brightest bean to cup machines, it can also be possible to customize your beverages – get a frothier milk or a stronger espresso, for instance. Those with more money to spend should definitely check out these extra features.
It's usually as simple as hitting a button or two, as the machine does all the work for you. No need to worry about learning how to be a barista in order to enjoy your favorite drinks at home, for a fraction of the cost!
Likewise, if you want a particularly coarse or fine grind, aim for a machine that allows you to choose from a variety of settings.

Frothing
Not everybody is after a latte or a cappuccino, but if you want a milk-based coffee drink on the regular, a machine that can froth either dairy, oat, almond or soya up for you automatically is definitely worth considering.
Be careful if you've never used a steam wand before, as they are tricky to get the hang of at first and can be dangerous if used inappropriately – an automatic milk frother might be better for those without experience.
That being said, you can get milk frothers separately that work just as well and don't require that much effort, and you'll probably save money buying the coffee maker without frothing capabilities and then picking up a standalone frother, if on a budget.
Frequently Asked Questions
Can you use ground coffee in a bean to cup machine?
Yes, in some, but only if your machine has the right functionality. Many of the higher-end De'Longhi coffeemakers for instance have a ground coffee function, which allows you to put pre-ground beans into the machine instead.
Trying to pour ground coffee into your grinder is definitely just going to make a mess, so unless your bean to cup machine specifically states in the user guide it's okay, or offers a "ground coffee" option, then just don't try it!
What coffee machine does Starbucks use?
Their own, customized ones! In every single Starbucks franchise across the world, you'll find the same Mastrena High-Performance Superautomatic Espresso machine. It is produced by Thermoplan commercially and cannot be purchased for the home.
They are different from a bean to cup machine in that a barista must use a portafilter or group handle to prepare an espresso, having already ground the beans themselves either manually or using a machine.
Likewise, you also have to froth the milk with steam want yourself, rather than the process being automated, which requires a lot more skill than you might expect. Pressing a button and getting a latte is generally much easier!
The average coffee lover probably can't afford to shell out for one anyway, as you're looking at at least a couple of thousand dollars, if not more.  A bean to cup machine can be picked up for considerably cheaper and make just as good a coffee!
Is bean to cup better than Nespresso?
That depends on who you ask. For those seeking the easiest, most convenient way to enjoy a delicious cup of coffee on the go, you'd probably be best with a pod-based machine, as these tend to cost less and will have you drinking a latte in seconds.
Those with more time on their hands and a bigger budget could benefit from the increase in quality between pod coffee and an espresso prepared by a bean to cup machine, which is as close to barista-made drinks as you're going to get at home.
Top of the range pod coffee machines are the same price as your average bean to cup, so it really depends on what you value more: an authentic coffee experience, or caffeine in your mouth quickly that does not compromise on flavor.
It is also worth pointing out that if you're snobby about espresso, you might be pleasantly surprised by the quality of pod machines. With today's technology they manage to replicate a barista-style machine relatively well!
However, if you're looking to replicate the coffee shop experience – the act of making your own coffee – then you'll want a barista-style machine, as opposed to a pod machine or a bean to cup coffee maker. Otherwise, it's all totally automatic!
Last update on 2023-11-25 / Affiliate links / Images from Amazon Product Advertising API