Any coffee lover will understand the importance of properly frothed milk in your morning coffee.
Making coffee at home can feel like a real downgrade from your favourite local coffee shop. There's nothing more disappointing than a watery latte or a cappuccino that is severely lacking in froth. 
You may think the only way to achieve the perfect milk-froth is by spending hundreds of pounds each month on takeaway coffees made by expert baristas. But, did you know you could create the perfect milky coffee from the comfort of your own home?
An at-home milk frother will allow you to prepare barista-quality milk at a fraction of the price of paying for it every day on your way to work.
However, with so many models to choose from, it can be hard to know which ones are worth your money and which will be a waste.
Fortunately, I've done some of the hard work for you! Below is a list of 5 of the best milk frothers available on the market right now.
I've also included a handy buyer's guide to further explain what factors you need to look out for and what to consider before making a purchase.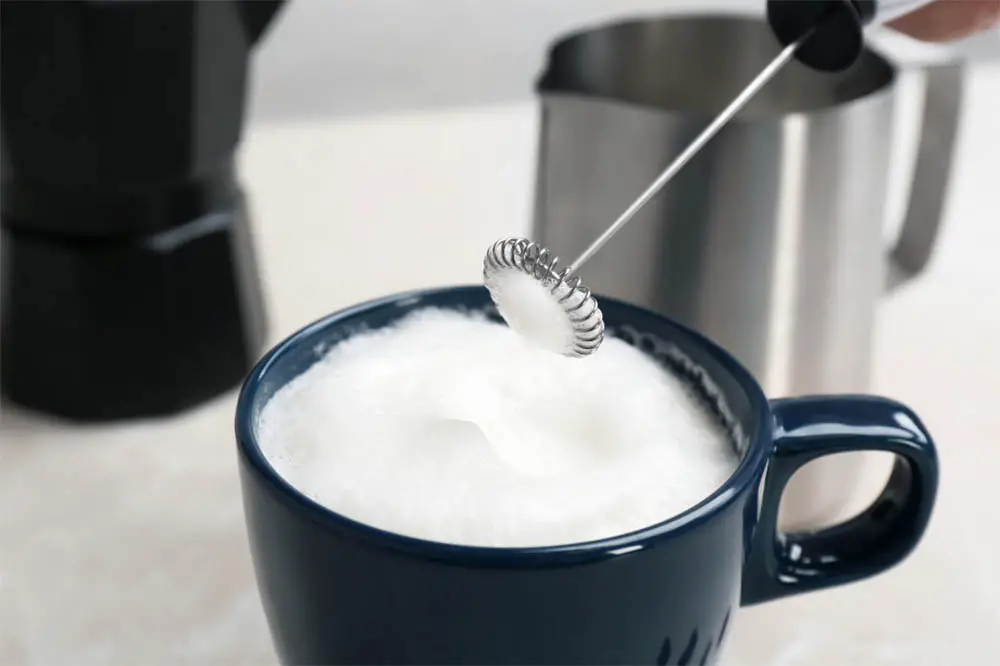 Best Milk Frother
The Severin SM 3585 Induction milk frother is more of a high-end option, particularly in terms of price.
However, the benefits that come with this profit certainly make up for where it lacks in affordability.
What's particularly impressive about this frother is the ability to choose the temperature you want your milk to be, something very few at-home frothers can deliver.
With five temperatures to choose from (45, 50, 55, 60, & 65 degrees), whether you're making a hot chocolate for a child or a piping hot latte to take with you on your way to work, this frother has the perfect temperature option for all.
In fact, this frother even includes an innovative hot chocolate function, so any non coffee lovers in your house can enjoy this machine. You can make a cafe-standard fresh hot chocolate from whole chocolate chunks!
It's a very stylish piece of equipment, its unique design includes a 360-degree LED light ring with a status display: red for hot and blue for cold operation for ease of use.
You'll get barista-style, creamy and frothy milk every time thanks to this professional product that features a precise easy-pour spout. You can also remove the milk jug from the frother for extra ease of use.
You won't have to worry about any horrible old milk smells because it utilises an induction heating which guarantees no burning of the milk so cleaning it will be super easy. Plus, the stainless-steel milk container is dishwasher safe.
Pros:
Temperature control

– choose from five temperature options

Barista-style quality

– smooth, frothy milk every time & 

Ease of use

– removable milk jug & barista-style easy-pour spout

Innovative hot chocolate function

– create delicious fresh hot chocolates using real chocolate chunks

Easy to clean

– induction heating process eliminates milk-burn & dishwasher safe
Cons:
Price

– won't suit all budgets
The Bodum 1446-01 Latteo milk frother is a great little gadget to have at home. It's very affordable, easy to use and delivers amazing results, especially for the price.
Ideal for cappuccinos, lattes, hot chocolates and everything in between. 
The only downside to this frother is that it won't heat the milk, you will have to do that yourself in the microwave after frothing. There are some advantages to this, you won't have to worry about milk burn sticking to the base of the jug making it hard to clean.
Plus, you'll be able to make it as cool or hot as you want using a microwave. The carafe, made from durable borosilicate glass, is safe for microwave use.
It runs on people-power alone, so there's no need to worry about batteries or power points.
Simply plunge the milk in the carafe for about 30 seconds to produce luscious, airy foam to add to your beverage of choice. If you want it more or less frothy, just plunge for more or less time.
Cleaning it is easy too. The carafe and plunger are both dishwasher safe.
Pros:
Affordable

– budget-friendly price 

Easy to use

– simply plunge design makes it easy for all to use

Dishwasher safe

– easy and quick to clean

Manual operation

– no need for batteries or power points to create an airy foam to top your coffee
Cons:
No heating function

– for hot frothy milk you will have to rely on an alternative heating option like a microwave
The Lavazza A Modo Mio milk frother is a great mid-range option in terms of price and functionality.
It's a little more complicated than the Bodum model but much simpler than the Severin frother.
The multifunction button makes it easy to use. To set the froth level, simply choose between either a cappuccino-style froth or a latte version and insert the according whisk. That's it – simple!
Unlike the Severin option, you won't have the option to choose what temperature you want to heat the milk to. That being said, there is a cold frothing option so if you prefer a cold milk top-up there's the option to do that.
Its design is stylish and compact and won't take up lots of space in your kitchen.
This product is very easy to clean, all elements are removable and dishwasher safe, so you won't have to deal with stubborn milk burns.
Pros:
Quality

– make a barista-quality cappuccino or latte without the barista training

Easy to use

– one multifunction button to control all so no need to get your head around complicated instructions

Easy to clean

– all parts are removable and dishwasher safe

Cold frothing option

– if you prefer a cold milk top to your coffee

Cost

– mid-range price, worth the extra money for extra features
Cons:
Heating options

– you don't have the option to control the temperature
The CHINYA electric milk frother is another affordable option that will provide delicious, creamy, frothy milk at the press of a button. 
Create cold and hot frothy milk, perfect for both hot cappuccinos and iced coffees. The hot option will heat your milk to 60 degrees, which is perfect for a nice hot coffee.
It's very easy to use, and an automatic switch-off function for safe, energy-efficient operation. Plus, what's great about this model is its larger capacity. It can froth up to enough milk for two cups and heat up to four cups.
The milk steamer features a non-stick coating for smooth functionality and easy cleaning.
Included in your purchase is a free cleaning brush, a transparent cover and a user guide along with the obvious, milk frother and hot and cold whisks.
Pros:
Affordable

– great price for a product that comfortably competes with mid-range competitors

Hot & cold operation

– great for hot and cold drinks

Accessories included

– included with purchase is a cleaning brush and machine cover, as well as the milk frother and whisks

Capacity

– can froth up to 2 cups worth of milk and heat up to 4

Easy to clean

– not-stick material & free cleaning brush included
Cons:
Not dishwasher safe

– manual cleaning only
The KitchenCraft Le'Xpress milk frother is a super cheap, basic option if you just fancy giving some added oomph to your coffee at home now and again without the commitment of an expensive model.
Of course, it's not going to be able to deliver the same standard as the frothing machines listed above, but it's a great option for those not too fussed about having different frothing and heating options.
Much like the Bodum frother, this product requires a bit more manpower than other frothers, although the KitchenCraft is battery operated, so you won't have to do any manual whisking, but it is a hand-held device.
So, you won't be able to just press a button and walk away while it gets to work.
There are advantages to this, though, because you'll be able to have some control over the level of froth achieved by simply frothing the milk for more or less time.
Pros:
Very portable

– small battery-operated device can fit in any bag & great for travelling

Instant frothing

– froth at the touch of a button

Easy to use

– simply hold the whisk in the milk until the desired froth consistency is achieved

Cheap

– incredibly cheap option that still delivers lovely frothy milk
Cons:
Very basic

– can't heat milk & requires you to create the correct consistency yourself, which can be tricky if you don't know what you're doing
Buyer's Guide
When it comes to finding the best milk frother, there are a few factors you need to consider before settling on a product.
I want you to get the best model to suit your needs and budget, so I put together this buyer's guide to take you through each factor and explain why they're important.
Keeping these points in mind when choosing a milk frother will make things a little easier and help you find the right option.
Ease of use
Depending on your coffee knowledge, you might not want to have to work with a particularly complicated machine. How user-friendly a milk frother is will make a huge difference on the success of your purchase.
Depending on your skill/confidence level, you may find the higher end milk frothers complicated to get your head around.
If you're looking for something simple and easy to use, opt for either a manual or simple electronic device. The cheaper to mid-range options will more often be the simplest to use.
Milk frothers that utilise one simple multifunction button are always a good place to start.
Manual vs Machine
Choosing between a manual and an electronic milk frother will depend on a few things. Firstly: budget. If you're only looking to spend as little as possible, you're probably looking at manual milk frothers.
You can purchase a hand-held milk frothing whisk such as the KitchenCraft model for under £10 which will do a good enough job.
Manual doesn't necessarily mean less effective. A slightly more expensive manual frother such as the Bodum device can produce cafe-quality milk froth, perfect for cappuccinos and lattes. The main problem with manual devices is their inability to heat the milk as they work.
Next: convenience. If you're happy to pay a little extra for the privilege, an electronic frothing device will be able to froth your milk at different levels of aeration and at different temperatures.
These options are also a lot more convenient because you can set them up, turn them on and walk away or do something else while they get to work. 
Temperature settings
Carrying on from the previous point, having the option to choose the temperature your milk is heated to is super handy.
This is where the more high-end models come in. If you're in a position to spend upwards of £50 on a milk frother, you'll be able to purchase one that comes with all the bells and whistles of a professional barista-quality milk frother.
These will often feature a range of temperatures to heat your milk to, so you can set it to suit you.
When it comes to temperature, if you're looking to buy a milk frother that heats the milk as it froths, and it only offers one temperature, try to go for one that heats the milk to about 60 degrees as much beyond this is when milk will start to burn leaving a nasty taste in your mouth and a much more difficult clean up situation.
Cleaning ease
One of the main reasons why we like to buy coffee at a café instead of making it ourselves is the effort that goes into the entire process. So, the easier it is to make and tidy away the better, right?
The worst part of any process in the cleaning up afterwards. So, it's a good idea to look for a milk frother that is easy to clean. Look out for 'dishwasher safe' in the product specifications and sometimes brands will even include a free cleaning brush which is handy.
Machines that can be disassembled or at least some parts removed for easy cleaning are good options to go for too.
Frequently Asked Questions
Does a milk frother heat up your milk?
Not all milk frothers will heat up the milk as they aerate it.
Manual devices such as cafetieres and hand-held whisks will only have the capability to froth the milk, and you will have to heat it up using another device such as a microwave to heat up the frothy milk.
If, however, you purchase an electronic milk frother, these more often include a heating feature.
For these machines, all you need to do is pour in your cold milk and turn it on and the machine will both heat and froth the milk for you.
These will often cost more than the manual versions, but they can still be quite affordable and are worth it for the convenience.
Does hot or cold milk froth better?
Milk tends to froth better when it is cold and fresh. Hot milk or milk that has been left out for a while will struggle to froth effectively.
If you want a nice thick and creamy milk froth, the best type of milk you can use is whole milk. It will create a thicker, creamier foam when frothed – perfect for cappuccinos.
If you use skim milk or other milk alternatives like soy milk, you will likely create a milk froth that is more airy and contains more bubbles, but this can be nice if a lighter drink is preferred.
How do milk frothers work?
Milk frothers work by adding air to milk, which causes it to expand or froth up. The longer you aerate or froth the milk, the thicker and frothier it will become.
Different milk frothers will do this in slightly different ways. Below is a list of milk frothers and how they work:
Manual – they look like a cafetière or French press and work by a person plunging the milk over and over to froth it  
Handheld – a small wand device with a whisk at the end. These devices are typically battery operated and work by someone inserting them into a cup of milk and turning it on to whisk the milk at high speed to create froth
Electric/ automatic – these are typically a more expensive option and work using a heating element in the base similar to a kettle with a coiled whisk at the bottom that spins the milk while pushing steam through it to create foam/ bubbles
Steam wand – this is generally what baristas use in coffee shops and is the most expensive machine used to froth milk. The steam wand features a metal tube that is connected to a water boiler. Hot high-pressure steam and air mixes into the milk to create froth
Last update on 2023-12-09 / Affiliate links / Images from Amazon Product Advertising API