Life's too short for bad coffee – Gord Downie
Whatever else he's done and regardless of whatever he's famous for, the reason we love Gord Downie is that he perfectly summed up the human condition in one brief sentence.
He was absolutely right, life is too short for bad coffee. In fact, given the hustle and bustle and the frantic pace of life in the digital age, we'd hasten to add that life is too short, and most of us don't actually have enough time, to brew coffee the old fashioned way. 
Which leaves most of us who adore nothing more than a good cup of coffee first thing in the morning (and maybe a few more sneaky cups throughout the rest of the day) in something of a dilemma.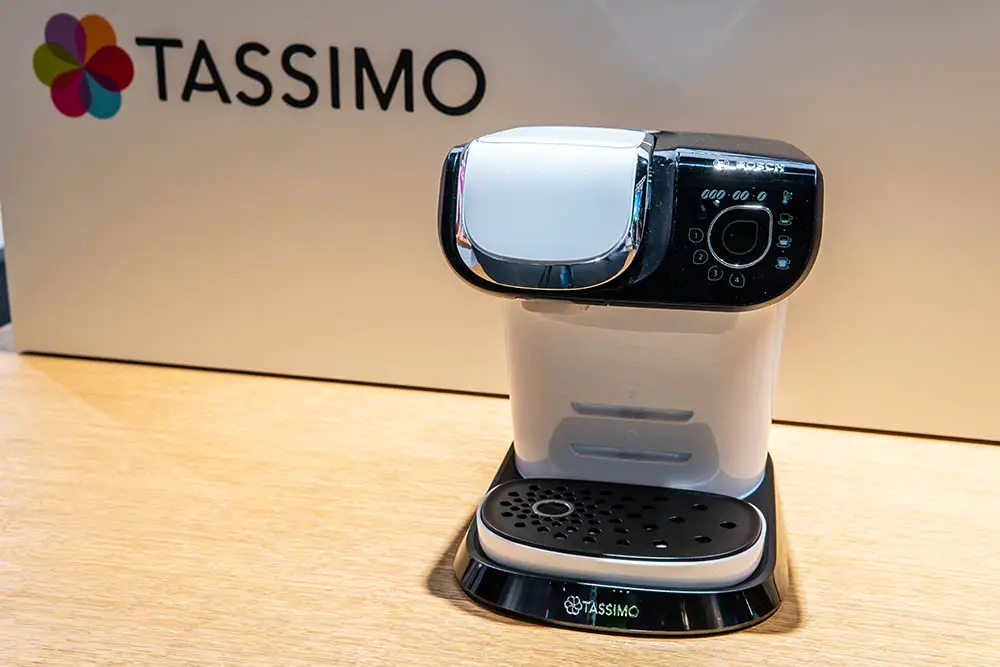 How can we enjoy great coffee if we don't actually have the time to either grind the beans that we need to make or wait for our filter machine to take its sweet time to slowly brew it? 
The eternal coffee conundrum was and is a problem that some of the greatest engineering minds of the last three decades took to heart, as much like the rest of us do, they also depend on, and enjoy great coffee. 
Having examined the problem from every angle, they came up with an ingenious solution. The single pod, single-serve coffee machine that could, and can produce a fantastic cup of coffee efficiently and quickly. 
While there are now a multitude of machines capable of fulfilling that desperately needed coffee function, and we've been privileged enough to use more than a few of them, there's one, the Bosch Tassimo, that we've always had on our eye and that for one reason or another, we've never been able to use. 
That all changed a couple of months ago when we were fortunate enough, thanks to a change in circumstances, to be able to purchase two Tassimo machines. And we're going to tell you all about them, warts and all. 
What Is Tassimo? 
Before we get into the nitty-gritty and start taking a closer look at the machines that we chose, it's probably worth explaining a little bit about what Tassimo is, and does.
Tassimo is a single-serve coffee and hot beverage system that relies on purpose-built machines and pods to deliver a wide-ranging series of different, delicious drinks. 
Originally invented in France in two thousand and four, Tassimo has become a single-serve system of choice in nineteen different countries, including the United Kingdom.
Even though the pods that the system uses are made by a number of companies, which means that there's an incredible amount of choice and variety, since two thousand and eight, Tassimo machines have been designed and built by the same company, Bosch.
And that, in turn, means that while they may be capable of performing slightly different functions, they're all based around a similar, easy to operate, and understand system. 
The Suny is an entry-level Tassimo machine that's been purposely designed to make your coffee life as simple as it can possibly be.
Aesthetically, it looks good, and because it comes in a single colour that'll sit comfortably in any room that you see fit to use it in, it isn't obtrusive and won't look like, and or seem like it's some sort of ghastly afterthought. 
Looks however, as our old gran used to say, aren't everything and the proof of any good coffee machine is how it makes its pudding, which in this case is coffee – or any other hot drink that's available as a Tassimo pod.
And the way that the Suny does what it does best, that is brewing coffee, is ingenious. 
After you've filled the three-quarters of a litre capacity tank with water and popped a T-Disc (or pod if you prefer, but given that's how Bosch refer to them, we'll defer to their voice of wisdom and follow suit) into the Suny, you don't even need to push a button in order for it to start brewing your chosen drink.
It uses something called Smart Start, which means that all you have to do is push your mug into the front face of the machine, and it'll start brewing your coffee. 
Or, if you don't want to hold on to your cup while the Suny fills it up, you can just pop it in the machine, press start, and leave it alone to brew your coffee, tea, hot chocolate, or whatever else it is you want it to make.
And thanks to the Intellibrew system that all Tassimo machines use, the Suny makes a near-flawless coffee every single time.
The system works thanks to the individual barcode that is printed on each T-Disc, which tells the Suny (after it's scanned the barcode) exactly how much water to use, what temperature it needs to deliver it at and for how long, in order to brew the perfect cup of whatever it is that you want to drink. 
As well as being easy to use, and consistently delivering cup after cup of great coffee (admittedly it did take a while for us to find the disc that we favour, but trial and error tasting isn't necessarily a bad thing), the Suny also comes with Bosch's watertight two year warranty, that serves up twenty four months of worry-free brewing, and even if some unforeseen disaster does curtail the Suny's performance in that time, we're confident Bosch will keep teir word and either fix or replace our Tassimo machine or give us our money back. 
Now for the bad news, because no matter how much we might like it to be, nothing in life is perfect.
The Suny, much like every other single serve coffee machine is hoisted, and hampered by its own petard.  Because it's a single serve machine, it'll only brew one cup of coffee at a time, which takes about a minute and a half, so if you do have company, they will have to wait for their coffee to arrive. 
And if you do decide to invest your coffee future in a Suny, despite it being an incredibly affordable machine, you'll be forever tied into the Tassimo disc system.
Unfortunately, unlike other single serve machines which can, and do use pods from other systems, the Suny only works with Tassimo discs, so you might want to consider whether or not that's something that you're happy with before finding a place for the machine on your kitchen counter. 

Sale
The second Tassimo machine that we chose was the model that Bosch calls "the personal one".
The My Way 2 ups the Tassimo ante, and while it has a much higher price tag than the Suny does, it does feature a few more coffee-making bells and whistles that make the extra expenditure more than worthwhile.
It's as easy and straightforward to use as the Suny is, due to the fact it uses the same Smart Start and Intellibrew systems as the entry-level machine does, but that's where the similarities, as far as how well it makes a cup of coffee are concerned, end.
The first, even though it isn't the most noticeable, difference between the two machines is that the My Way 2 has a built-in Brita filtration system in its water tank. 
The addition of that filter means that it actually filters the water that it uses to make your coffee as it's brewing it.
According to Bosch, it's supposed to deliver a cleaner, brighter tasting coffee experience, and while we're sure that the filter does what it's supposed to, we didn't actually notice much difference between the way coffee made by the My Way 2 and the Suny tasted. 
At least we didn't notice any difference until we started playing around with the personalisation control that the My Way 2 is fitted with.
It allows you to control the strength of your coffee's flavour, how much water it'll use to make it with (which allows you to fill a bigger mug all the way to the top instead of just the halfway point), and the temperature that it'll brew at.
In other words, the My Way 2 lets you override the barcode on the T-Disc and make your coffee, your way. It'll take you some time to get to grips with the dial and to tune it into how you like your coffee, but when you do, all of the experimentation will have been worth it.
Trust us, we know what we're talking about. 
The only slightly disappointing things that we've stumbled across since we've been using the My Way 2 are the same as those that burden the Suny.
It'll only brew one cup of coffee at a time and once you start using the My Way 2 to brew, you'll be locked into the Tassimo system for the brewing lifetime of the machine. 

Sale
The Tassimo Verdict 
We're not going to beat around the bush or waste any more of your time, we loved the way Tassimo does what it does and we think that you will too. It's easy to use, quick and efficient and the discs aren't expensive.
That said, if you are going to brew your coffee the Tassimo way, you'll have more fun, and enjoy your coffee more if you make it with the My Way 2 rather than the Suny. 
Last update on 2023-11-27 / Affiliate links / Images from Amazon Product Advertising API