Coffee scales are a must-have for any coffee connoisseur or for anybody who wants to take their coffee drinking beyond pouring a few tablespoons of coffee into a cafetiere.
With the rise of specialty coffee around the world, thousands of home baristas and people learning to appreciate the quality of specialty coffee have emerged.
Before the coffee reaches your kitchen, it has been on an amazing journey, one that is meticulously tracked at every move. Coffee is grown all year in several coffee-growing regions and only harvested when the coffee cherry is ripe enough to be picked. This is why it is such a labour-intensive job: each coffee tree might have to be revisited six times during each harvest to ensure only the ripe coffee cherries are picked.
After the cherry is selected, it is depulped, dried, and processed in the farmer's preferred method. It is processed for some time before being shipped to the exporter, importer, and roaster at controlled temperatures. The roaster then carefully roasts the beans to the profile that best highlights the coffee's characteristics before resting and selling it to you.
To non-coffee drinkers, measuring the coffee brewing may seem a little boring, but it's such a shame for the coffee to have been carefully picked, distilled, and roasted just to become over-or under-extracted at the last hurdle.
Creating The Perfect Espresso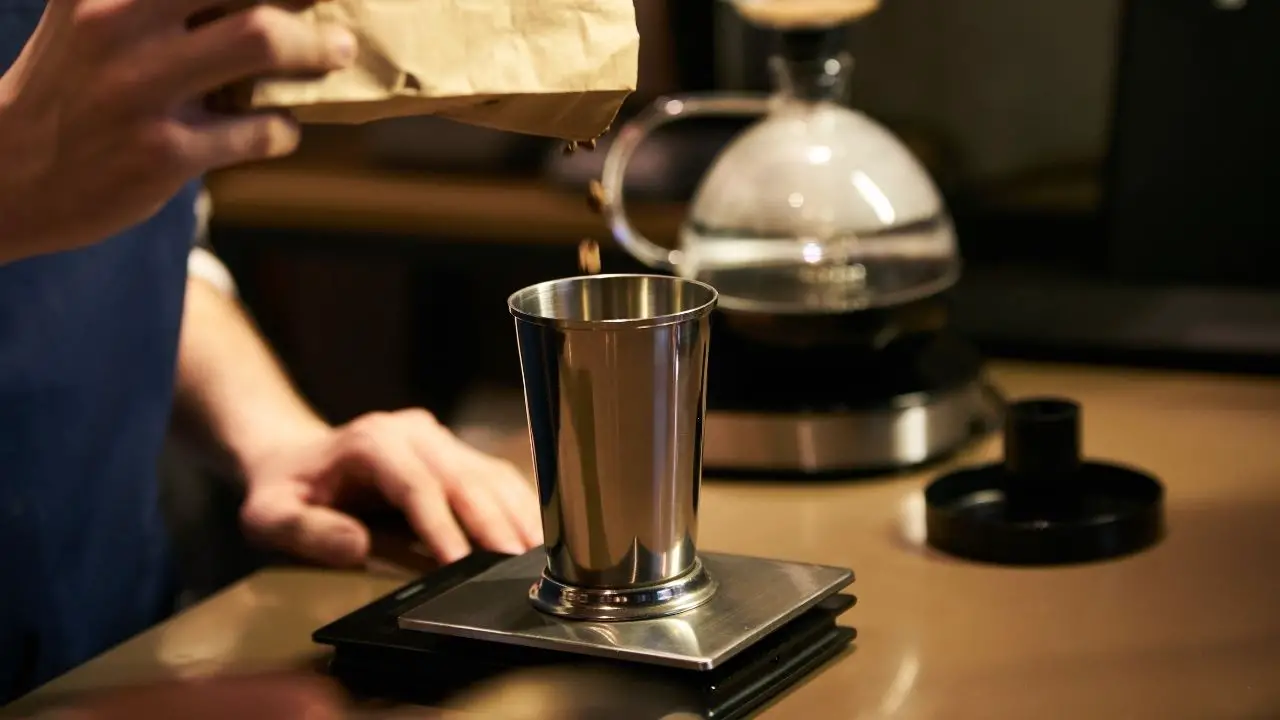 The typical amount of coffee used for a double espresso shot served in coffee shops is 18g to 21g, but this varies depending on your basket's size, as some only contain 15g to 12g of coffee.
The Best Coffee Scales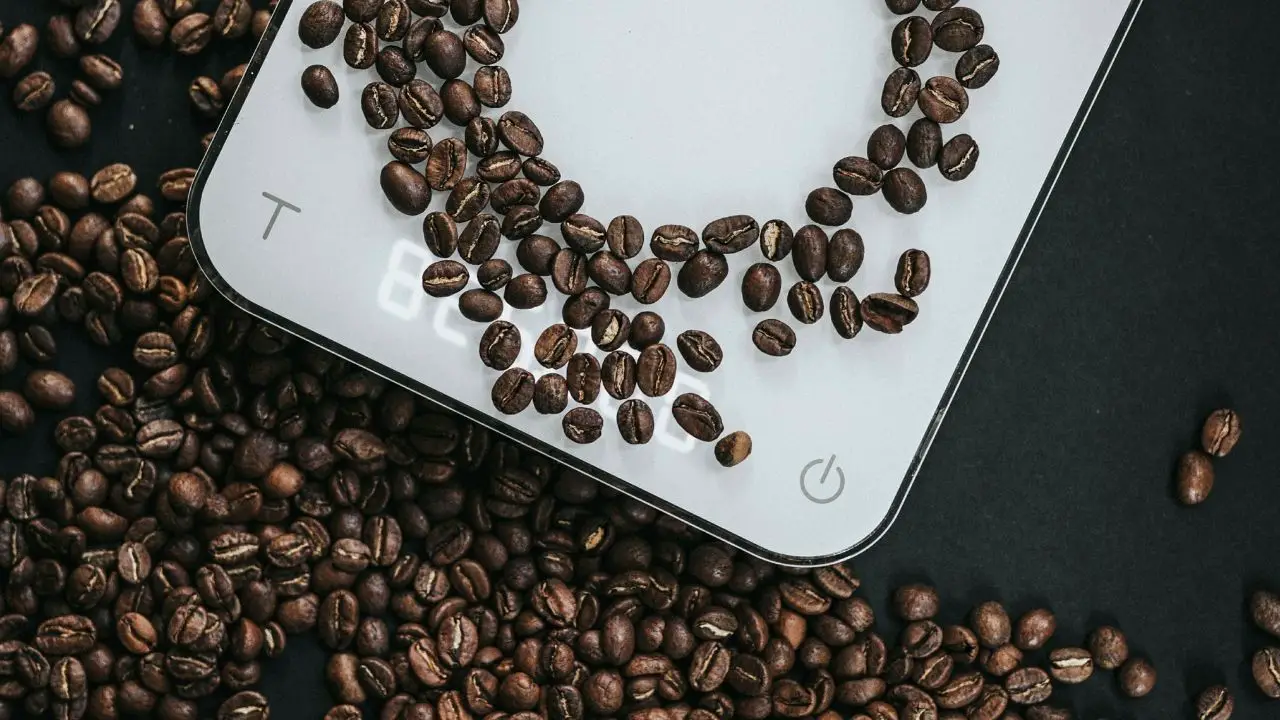 If you're looking to improve your coffee game and are looking for the best coffee scales, here are a few that we recommend:
ERAVSOW Coffee Scale with Timer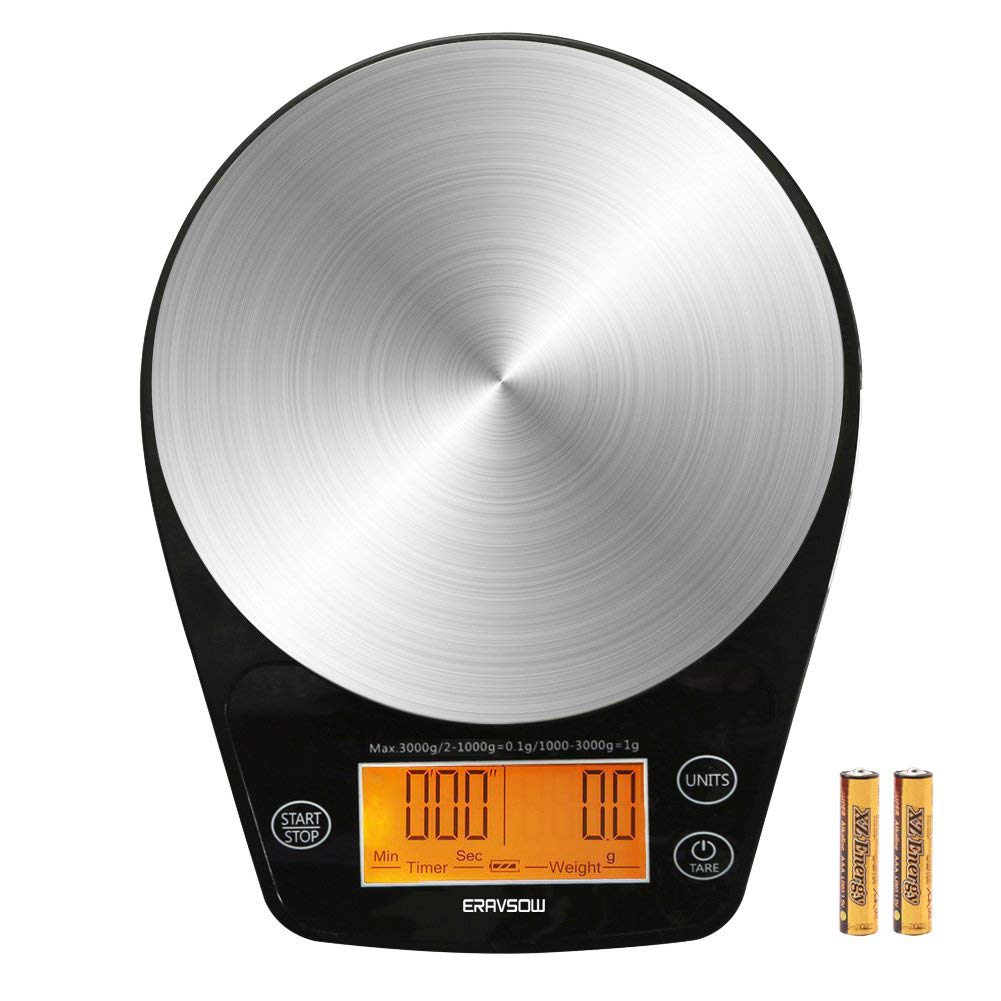 The Eravsow Coffee Scales are a professional coffee scale with weight and timer features. Hand-drip coffee enthusiasts love them — the coffee scale aids in maintaining a coffee lovers lifestyle. The scale and timer combine two essential kitchen tools to help you reliably follow recipes while also saving room in your kitchen.
TIMEMORE Black Mirror Digital Coffee Scales With Espresso Timer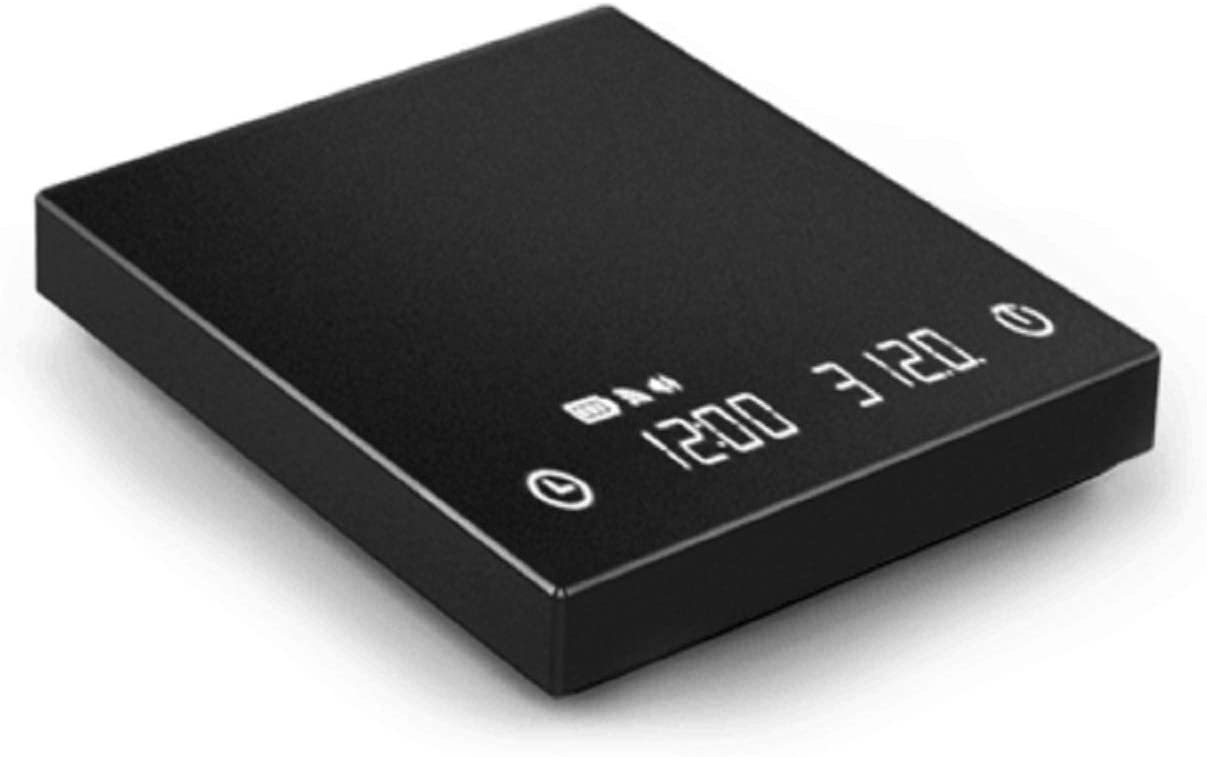 The Timemore Digital Coffee Scales are great on the eye and look fabulous on the worktop. They aren't the cheapest, but they are one of the best and most reviewed on Amazon, which signifies that these scales are very good indeed.
Bemece Digital Coffee Scale With Timer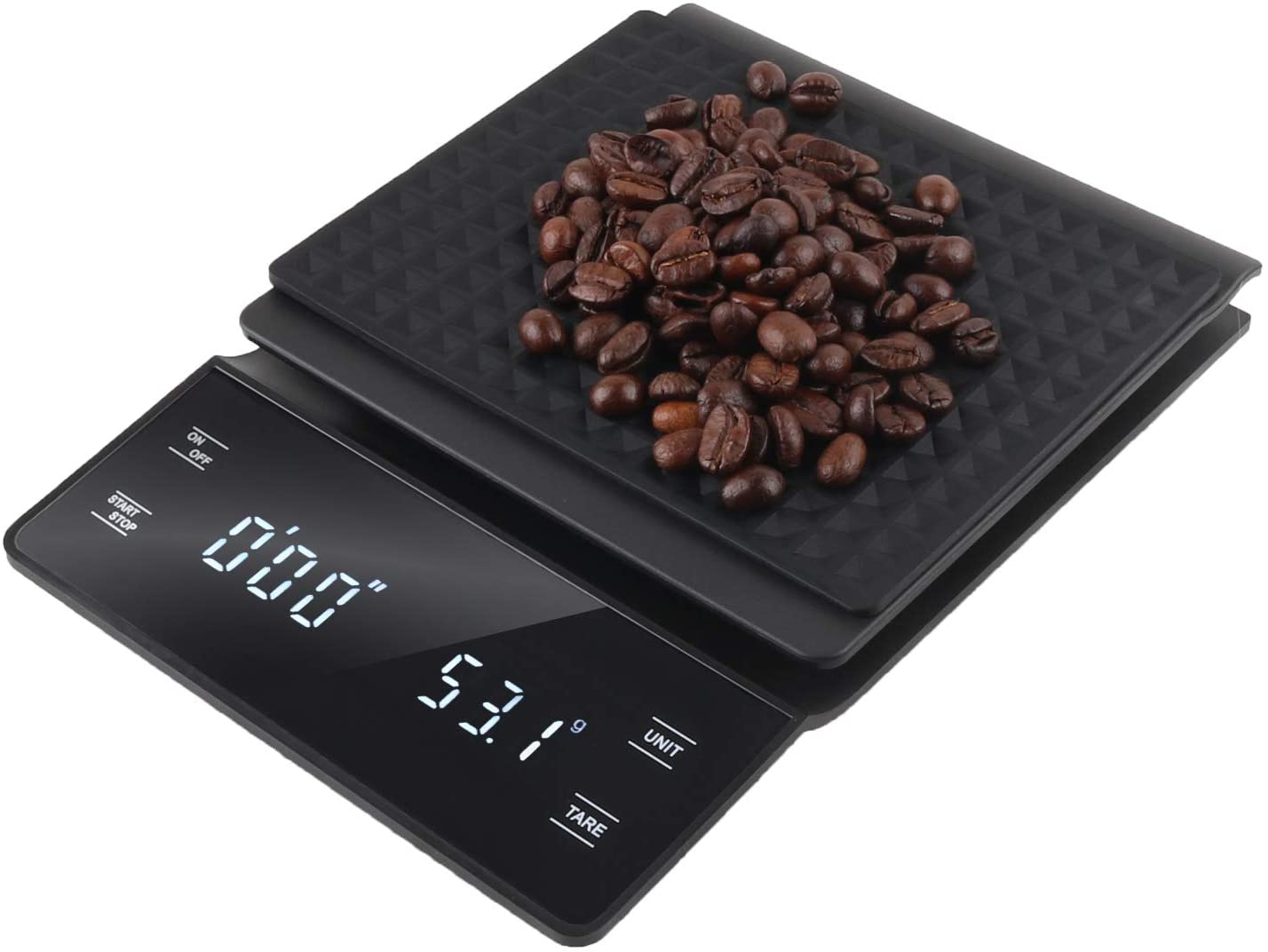 The Bemece coffee scales have a slim and portable design. They are small, measuring just 7.3 x 5.1 x 1.2 inches. They are very compact, making them ideal for use in the home, kitchen, coffee shops, laboratory, and pharmacy, among other places.
They are super energy-saving and turn off automatically if they're not used after 2 minutes. They are simple to understand and control and have backlights so you can still see the buttons etc. when the lights are low, or the room is darker. Batteries provide the power for these scales, and they are included with each purchase.
The anti-slip insulation rubber pad on the Bemece Digital Coffee Drip Scale protects your scales from high temperatures and liquids, extending the life of your electronic coffee scale.
The non-slip mat holds your coffee scale in place and makes it easy to use. Before using, make sure you remove the protective film from the display screen.
TIMEMORE Black Mirror Basic Coffee Scale Digital Auto-Timing for Pour-Over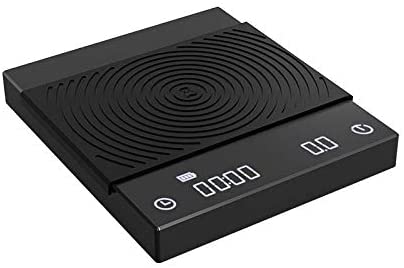 For baristas and coffee lovers, the Timemore black mirror coffee scales are the best choice.
It can precisely monitor the production process, making it quicker and easier to make delicious coffee and spend quality time with family and friends over coffee.
The TIMEMORE coffee scale has the following features:
Elegant and simple style, ideal for a modern home.
Accurate timing and weight display are provided by a high-precision induction design.
The weight is accurate to 0.1g, allowing for more precise coffee preparation.
A coffee weighing platform with a frosted finish, which is scratch-resistant, wear-resistant, and has a longer service life than comparable items.
Rechargeable lithium battery with a capacity of 1600mAh and a battery life of up to 10 hours.
Convenient USB charging style that can be charged at any time and from any place.
Silicone heat insulation and a waterproof pad are included to keep the tabletop dry, clean, and sanitary.
KitchenTour Coffee Scales with Timer – High Precision Pour Over Drip Espresso Scale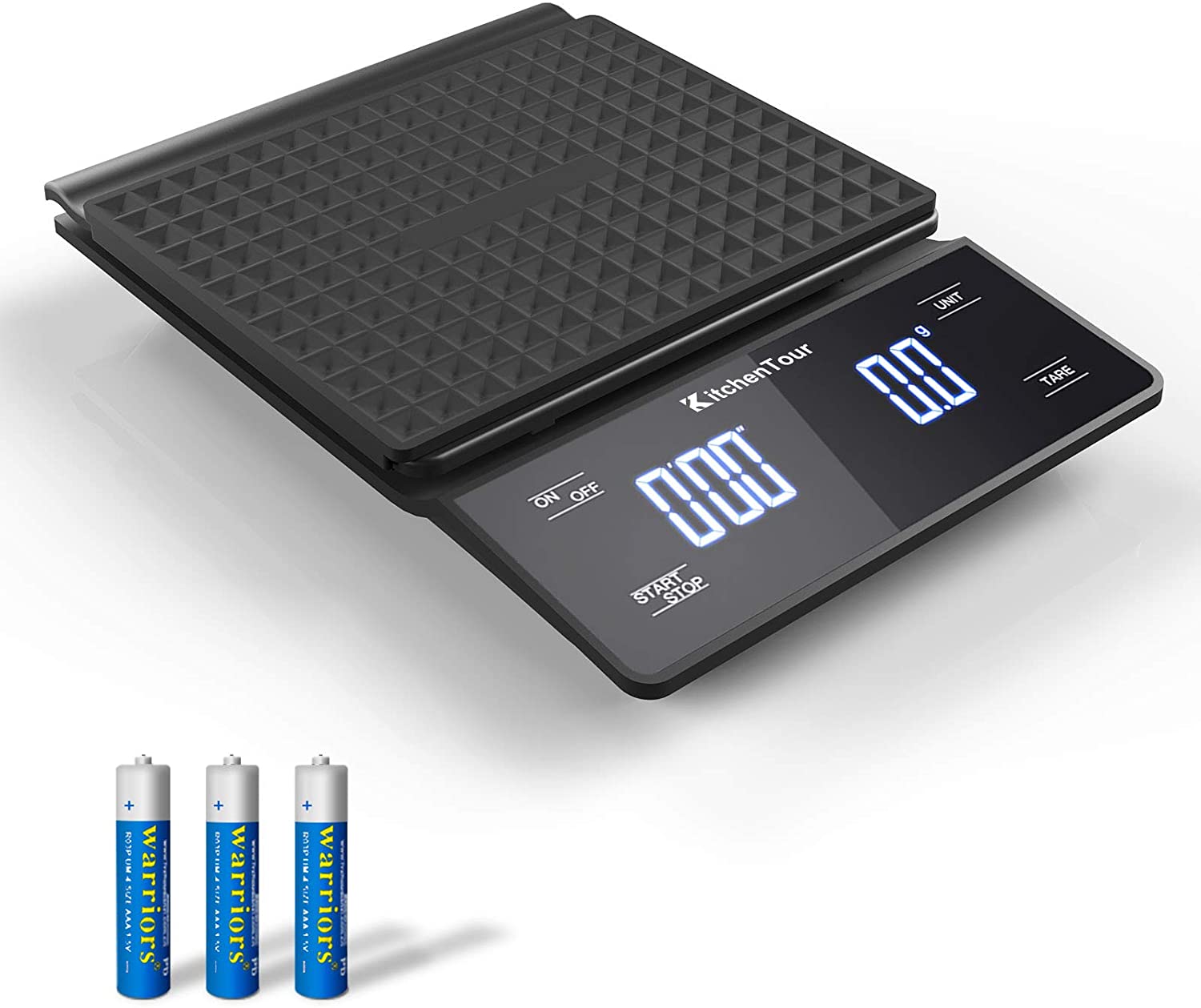 The KitchenTour EK6002 coffee scales define the latest in precision weighing technology, with a weight capacity ranging from 0.3g to 3000g, to assist you in measuring and preparing an exceptional cup of coffee with refined accuracy.
This electronic coffee scale has a built-in timer for roasting and a scale for your coffee, ensuring that each cup is consistent. You can use the Tare Function to combine different ingredients, such as coffee powder and water, in the same container to make brewing more precise and straightforward. It also has a 120-second auto-off timer and a low-battery alert.
These Scales Are:
Sturdy
Accurate
Safe
User friendly
This digital kitchen scale is built with a high-quality ABS platform and a robust and simple frame to clean and maintain.
The KitchenTour High Precision Coffee Drip Scale allows you to convert between g, oz, and ml units to measure solids, liquids, and powders. The touch-activated keys also contribute to the overall elegance and cleanliness of the design. Weighing is simple and fast with the back-lit reverse LCD display.
It's ideal for use in cafes and at home, allowing you to measure your coffee and water to the tenth of a gramme. You won't have to take your eyes away from your coffee brewing area, thanks to the built-in timer.
Coffee Gator Digital Scale with Timer And Large LCD Display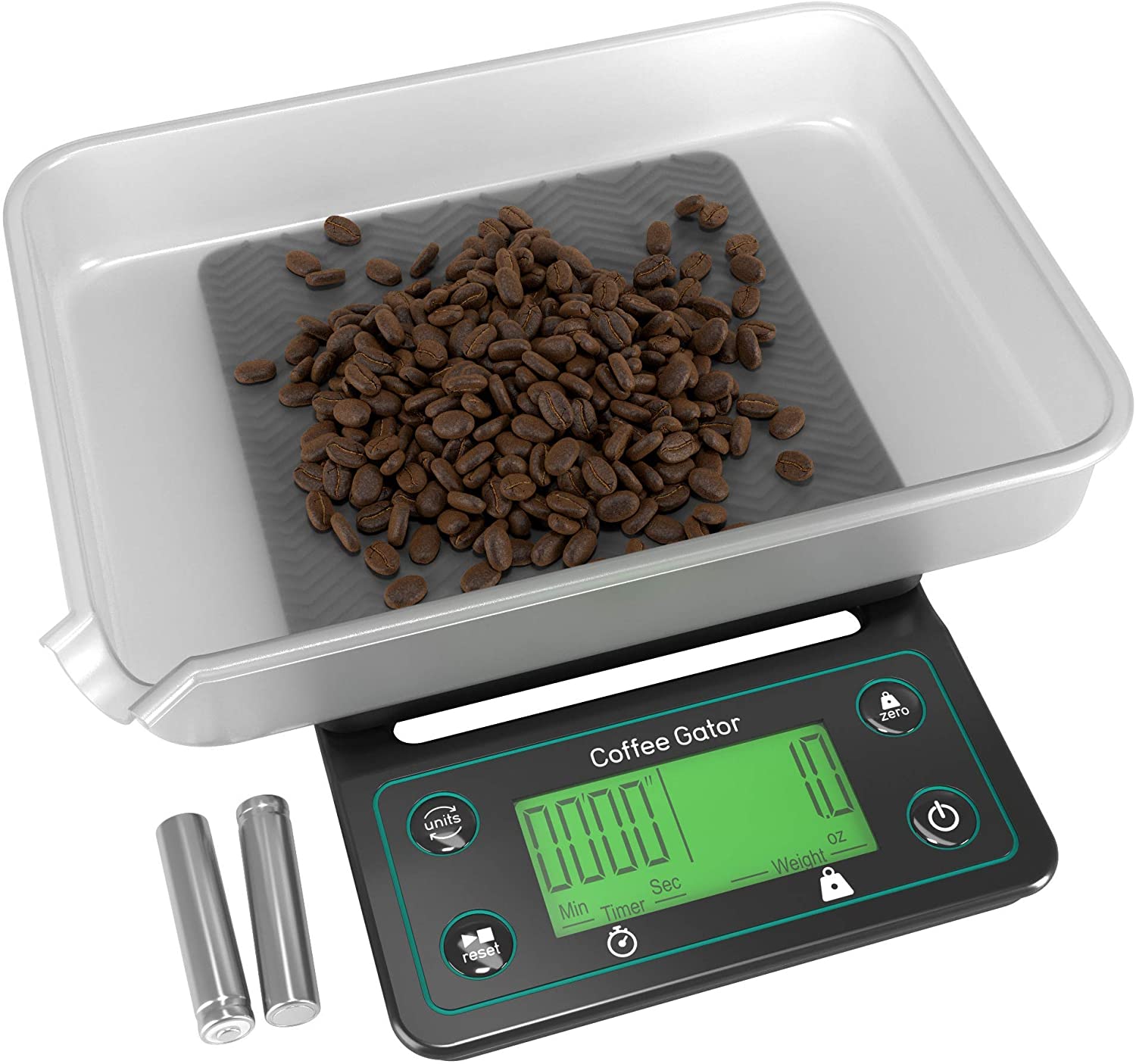 Get it right, and you'll reap the benefits. Brewing coffee that brings smiles to people's faces necessitates precision in terms of weights and times. This multi-purpose coffee scale has been ergonomically designed to ensure perfect coffee every time.
Built for coffee but can be used for (almost) anything. Scales from Coffee Gator are a no-brainer option for measuring beans, grounds, cooking, jewellery, and more. Anything from brewing to baking is a piece of cake with them because they're reliable from 0.1g to 3kg.
Everything you need, nothing you don't. Batteries are included in the package. The scales are protected and stabilised by a non-slip rubber mat and feet. On an ultra-bright LCD backlit display, weight, time, and liquid measurements (in imperial and metric units) are clearly visible.
Drink Better Coffee
Brewing becomes a recreational activity with these scales. The all-in-one piece of equipment weighs (g/oz), measures water volume (l/fl oz), and counts down the minutes until your brew is ready. Expect more smiles per cup if you step up your coffee game.
Conclusion
ALl of the above coffee scales are adequate enough to provide you with the correct measurements to create the perfect brew. The best performing and the best coffee scale has to be the Eravsow coffee scale, it comes with two aaa batteries and they are a good coffee scale which can be used as kitchen scales too!
Now that you are able to make your coffees and espressos just like the barista does at the coffee shop – you'll never have to leave the house or work to get the perfect brew.
Check out our blog page where you'll find out about the best brewing method, the best espresso machine in 2021 and lots of great coffee articles to inspire and inform you about everything thats new, on-trend and popular in the world of coffee.
Last update on 2023-12-03 / Affiliate links / Images from Amazon Product Advertising API