Retro kitchens require retro appliances and gadgets. All coffee lovers should have their very own coffee machine to match their kitchen decor. The entire theme of the kitchen can be thrown right off by an un-aesthetically pleasing gadget, even more so if they do not coordinate with the rest of the look.
Retro-style kitchen appliances are currently must-have items for the kitchen and, as a result, some brilliant retro-Esque coffee makers have been launched by a range of leading kitchen technology brands. What kitchen would be complete without a retro coffee machine ?
We've tried and tested a number of coffee machines on the market that look rather retro and we've reviewed them below. We have included in our reviews not only our verdict on the appearance of the machine, but also price, efficiency and if it comes with free delivery or not! We have compiled a list of five of the best Retro Coffee Machines available in 2021.
The 5 Best retro coffee Machines
De'Longhi Vintage Icona Espresso Machine
Swan Retro Pump Espresso Machine
Ariete Vintage Espresso Machine
Smeg Drip Coffee Machine
KitchenAid Nespresso Candy Apple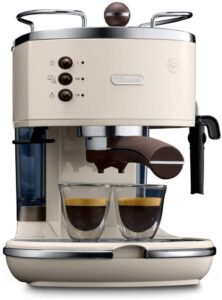 When it comes to coffee machines, DeLonghi still delivers, and they've done it again with the Icona Espresso. This pump machine follows the vintage and retro concept trend to provide the required tools to produce the quality of coffee that you figured only Baristas could handle.
The machine has advanced technology that can make you a perfect Italian espresso which is perfect and authentic every single time. The "Cappuccino System" blends steam, air and milk to create a thick, creamy froth for delicate cappuccino if espressos are not your thing.
You are able to monitor water and steam temperatures independently with two different thermostats. You can throw in ground coffee or Simple Serving Espresso pods, whatever you have or whichever you fancy! Keep in mind that it is only capable of producing two cups at once, so if you need several cups at the same time, you may want to look elsewhere. However, due to its self-priming system, the machine is still ready to use, so it won't take much time to make extra cups. The machine is energy efficient with an auto-off feature.
The unit is easy to clean, with a removable 1.4-litre tank and a removable drip tray, which ensures that maintenance takes little effort. The machine is available in cream and has a great product rating on Amazon.
How Much Does This Product Cost?
The unit is purchasable from Amazon at a price of £165.00 with free delivery if you're a Prime member.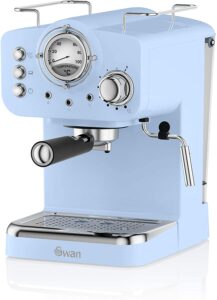 This Swan Retro coffee machine is our favourite pump espresso machine for less than £100, with a retro, vintage aesthetic and great espresso efficiency.
We found the espresso provided by the SK22110 to be very good, given the fair price point of the unit. On the negative side, it can sometimes be a little too mild, so we do recommend that you really load the filter with ground coffee to get good strength and consistency.
That said, there was a lovely creme and a relatively mild flavour in the espresso which lends itself well to making long drinks such as lattes and americanos.
With few advanced features or settings to speak of, the computer is fairly easy to use. For beginners, this would make it a decent choice, but less appropriate for enthusiasts who want to give their espresso a personal touch. For users who want imaginative power over their coffee, a dial regulating the force of the in-built milk steamer is the most interesting choice for the system.
We spent about 20 minutes assembling the components of this coffee machine and putting them together: a fair configuration time that is approximately in line with most other electric espresso machines that we have tested.
The SK22110 is a little bit bigger in terms of footprint. Some of you may consider that a good thing, because the machine looks so smart, particularly when coupled with other appliances from the Swan Retro range.
This appliance comes conveniently packaged in recyclable materials, and carries a relatively low in-transit environmental expense. Interestingly, some of its components seem to have come from the same manufacturing lines as those used in the Sage Bambino Plus, a higher-end, and higher-priced system with features comparable to the SK22110 so to say this is only £100 but comparable to that machine means you're getting an absolute bargain.
How Much Does This Product Cost?
The price we found for this coffee machine on Amazon was £89, and you can get free delivery if you're a Prime member.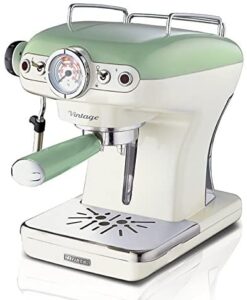 Granted, this Ariete release resembles something of a sewing machine at first sight, but it is the latest member of the popular RetroStyle line of Toasters, Kettles and Coffee Machines. The Espresso and Cappuccino Vintage claims to be no different and performs properly.
You can prepare the perfect cup of coffee and delicious cappuccinos in the comfort of your own home, as strong and as creamy as the ones in Starbucks. With its 15 bar pressure, filter holder pods, two powder cups and milk frother, you'll get a perfect cup every time.
Like the drip tray, the 0.9-litre tank is removable, which implies that cleaning is a breeze. The standby feature ensures great energy efficiency and the machine is extremely lightweight at only 4 kg.
How Much Does This Product Cost?
The range is available in Mint Green, Light Blue and Retro Beige. You can't go wrong at all for just £109.99 and free delivery if you have an Amazon prime account.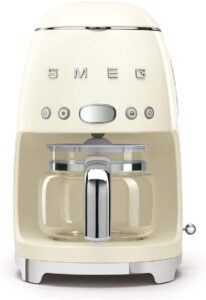 No-one makes it quite like Smeg when it comes to aesthetic kitchen appliances. Their Retro Style Espresso Coffee Machine comes in a range of colours – Cream, Black, Red or Pastel Blue – and is as brilliant in appearance as it is in results.
You can make Barista quality coffee at home for you and a guest with 15 professional bar pressures and three buttons including a one-cup button, a two-cup button and steam option. It has never been easier to clean with a 1-litre removable water tank and water filter as well as a descaling light indicator.
For some, the cable length of only 1 meter might seem short, but the machine itself has a net weight of only 5 kg, which means it is easy to move the machine if necessary.
How Much Does This Product Cost?
It's a tad more pricey at £169.95 but still affordable if you're a coffee lover and well worth the extra cost. You can get free delivery of the machine if you're an Amazon Prime member.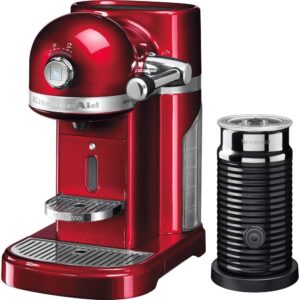 It's no secret that some excellent cake mixers are made by KitchenAid, but how do they fair when it comes to coffee machines? Pretty good as it goes. The Nespresso Artisan comes in a stylish finish and a number of colours; Almond Cream, Candy Apple, Onyx Black, Medallion Silver, Empire Rose, and Frosted Pearl, so you can certainly find one that suits your kitchen.
Quality coffee is assured with a 19 bar high-pressure system, and all of the hard work is done for you with this unit. There are six pre-programmed cup sizes, a treatment emptying mode and a descaling mode, ensuring that maintenance is optimal.
How Much Does This Product Cost?
It's rather more pricey than the other coffee machines but is super stylish and looks great on the worktop. The cheapest we could find in the Candy Apple colour was £449.99 on Amazon, you can get free delivery if you're a Prime member.
We hope this article has helped you to choose the perfect retro style coffee machine. I must say I was quite impressed overall with the quality of these machines and although some do have a novelty look about them, they're actually very sturdy and very well made machines. Some make great brews with ground coffee and with added features like a milk frother and water tank the quality of the end product acts as a credit to these fantastic coffee machine manufacturers. Being able to make 2 cups of coffee at a time is also an added bonus so those with jugs and the ability to make 2 cups instead of one at a time gets full marks from me!