Sale
There are a handful of grinders for the home market that are premium products and sit in a category for selection by the coffee connoisseur
The De'Longhi Dedica Style Grinder comfortably sits within that category.
This grinder is not inexpensive and you can pay a lot less. Nonetheless, this coffee grinder will produce a coffee grind that simply cannot be achieved by grinders at the lower end.
If you are looking for a coffee on a par with some of the well known high street coffee shops  you should simulate what they are doing as much as you can.
This is a burr grinder ensuring the consistency of grind size each and every time
A blade grinder will just mince up the beans into different sizes.
Depending on which type of coffee machine you use this burr grinder will give you just the right size of coffee ground to optimise the flavour.
Some examples of what type of grind to go for relative to each type of drink are in this image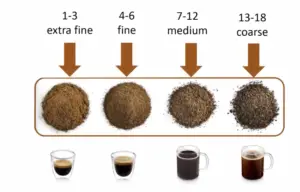 Does this grinder perform at the level we would expect for such a premium product?
Overall Score 8.2/10
Design 8/10
Delonghi are the undisputed kings of the coffee machine world so if you already have a Delonghi espresso machine then this is a worthy partner
This comes in a high gloss stainless steel finish which is personal preference versus the matt look of some of the other top-end grinders.
In our opinion, a matt finish looks more classy. Fingerprints do show up but are easy enough to wipe off with a cloth.
This is a strong and sturdy piece of kit. There is nothing flimsy or weak that looks like it is going to break any time soon.
The LCD display is large with good sized font clearly showing what is going on at all times.
Functionality 7/10
The dial on the side of the grinder determines how many cups of coffee should be ground at any one time. The number of cups you have selected will appear on the LCD display. Up to 14 cups can be ground at any one time
You can then decide between light, normal or strong for coffee strength by pressing the button with 2 beans on the control panel. The stronger you want the more coffee will be delivered.
This ok but in our opinion not as good as the smart grinder pro from Sage which allows you to select grind time down to 0.2 of a second so that you get the exact amount of coffee required to suit your taste.
Grind fineness or coarseness is determined by the manual dial just above the LCD with 18 different levels to choose from.
Again, this is fine but a little bit clunky for our liking.
The finest grind (number 1) should be reserved for espresso and the most coarse (number 18) for cafetiere.
The plastic container which holds the coffee beans isn't the biggest but does hold around 300g of beans. We would suggest only adding the amount you need for a couple of day's worth of coffee and keep the rest in the fridge for freshness.
Delonghi does provide a storage jar with the machine which is a nice little add on. It has been designed to fit perfectly into the grinder to allow up to 14 cups to be pre-ground and kept handy or if you wanted to take it with you on a trip or to work.
Here is a short video showing you exactly what you get in the box
 Ease of use 9/10
Super simple operation.
Once you have the grind size and coffee strength set as you like it then you just need to select the number of cups you want to be delivered and press one button to get your coffee
Value For Money 7/10
This is a very good grinder but it needs to be at the premium price you need to pay.
At this level, we are looking for a device that allows you to be ultra-precise and in our opinion, the the smart grinder pro from Sage is just a touch better value
If you love Delonghi though there is nothing wrong with this grinder
Here is a short video of the De'Longhi Dedica Style Coffee Grinder in operation
Sale
Last update on 2023-11-13 / Affiliate links / Images from Amazon Product Advertising API