This is a semi-automatic machine which effectively sits on the third rung of specification within Delonghi's bean to cup range of coffee machines.
The manual entry-level Magnifica ESAM 4200.S is the entry-level, followed by the Eletta ECAM44.620.S which boasts a digital display as opposed to manual controls for drink selection and adjustment of coffee strength.
This model adds another layer of options to manage your drinks just the way you like them
Overall Score 7.4/10
Design 7/10
First impressions are that it looks a bit boxy. It is certainly not an ugly machine but it contains a number of different colours.
Although listed as white it is more of a creamy white rather than brilliant white and matt rather than gloss
The control panel is black and the drip tray and frother are in stainless steel.
If you have white or black units in your kitchen then this will blend in very well.
In terms of trying to describe the kind of kitchen this would fit into we would describe the overall look and feel as Modern Classic.
This is an above-average sized machine coming in at 23.6cm deep, 42.9cm wide and 34.8cm tall.
Functionality 8/10
The electronic digital display does not sit directly on the body of the coffee machine but protrudes from the section directly above the coffee delivery pipes.
We like this as it is nice and visible and easily accessible for all finger sizes.
All drinks are extremely customisable but most of us will be more than happy with one of the 4 pre-programmed options described in this image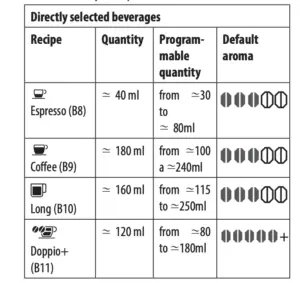 Delonghi has been very careful to set the optimum amount of water delivery for each coffee type so 40ml of water for an espresso and 180ml of water for a black coffee.
Default aroma means the amount of coffee which is ground before water is pushed through it to create the coffee in the cup.
Doppio is "double" in Italian and in this instance means double espresso
The strength of the coffee can be quickly adjusted from the default by pressing the bean icon button but Delonghi has decided that if you want to adjust the amount of water delivered then you will have to do that in the settings menu prior to selecting your drink.
If you can change the coffee strength for each drink without programming then perhaps you should be able to change the amount of water delivered as well.
If you fancy a drink other than the 4 in the table above then press the "drink menu" button and you will be shown as further selection as follows: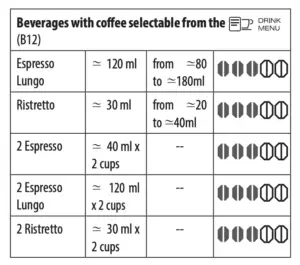 What you are getting here is double shot drinks and Espresso Lungo is pretty much another word for Americano and Ristretto is a shorter drink than Espresso
This model comes with a steam wand as opposed to a milk carafe for full automation. It's a matter of personal preference but in our opinion, an included milk carafe is a little bit of a gimmick and can at times be a little cumbersome with cleaning and fridge storage. The milk tends to go off quicker as well when it is in the plastic container so you need to change it almost every day.
In our opinion you are better off with the steam wand to heat the milk – there is a reason that's the way they do it in coffee shops. It's fresher and better in terms of the creaminess of the milk.
There is a hot water button on the control panel which delivers around 250ml of water. If you want less then you have to press a different button to stop. Delonghi could have made this easier by having the same button pressed to stop.
Ease of use 7/10
If you stick to one of the 4 pre-programmed drinks on the control panel then it's about as easy as it comes. Hit the button and heat up some milk. Done.
Once you start to go outside of the defaults in our opinion it gets a little more complicated than it needs to. It's certainly not rocket science but you do need to press some buttons and go into sub-menus at times to get what you are looking for.
Quality of coffee 9/10
As always, if you are investing in a good bean to cup coffee machine such as this make sure you add high-quality coffee beans.
It's no good having a good machine without great beans.
Value For Money 6/10
This is a good coffee machine but the Magnifica ESAM 4200.S and Eletta ECAM44.620.S have similar features at a lower price so check these two out as well before making a decision.

Last update on 2023-11-13 / Affiliate links / Images from Amazon Product Advertising API