If you are looking for something a little bit special and you can appreciate the little differences that create perfection and make the difference between a cup of coffee that you get in a regular coffee shop and one that you would get in Claridge's then a Baratza coffee grinder is the road that you should go down.
There are many different burr coffee grinders available for the consumer market and almost all of them are manufactured by companies that also make coffee machines and the grinders that they also manufacture complement the coffee machines.
It is rare for a company to only make something as specific as coffee grinders and nothing else because they are basically putting all of their eggs in one basket. If it doesn't work then they have nothing else to fall back on.
What it also means though is that they can focus all of their energy on their area of expertise to create a product that exceeds expectations. Baratza has been around for more than 20 years making just one thing – coffee grinders.
One of the biggest issues that you can find if you choose the wrong grinder is that if your preferred drink of choice is Espresso (or any of the milk-based drinks that are derived from it like Cappuccino or Latte) then you need to ensure that the grind is fine enough to accommodate the ideal espresso.
Unbelievably a lot of burr coffee grinders do not achieve a fine enough grind fineness and should be avoided. At trusted coffee reviews we are careful to only recommend burr grinders that actually do the job they are supposed to and then you can select the one that accommodates your needs and budget.
The interesting thing about Baratza is that they cross over from the domestic market into the professional side of things. They actually manufacture coffee grinders that cost more than £800 specifically for high volume commercial outlets. They understand what it takes to create a high-quality grind, consistently every time.
Overall Score 9.6/10
Design 9/10
This is a high-quality product which has a kind of industrial look to it that is actually very reassuring because it looks like the type of appliance that you would find in a coffee shop rather than in your kitchen and makes you feel like you are bringing a coffee shop into your home.
It weighs 3.24kg which is way more than anything else in this class of coffee grinder and what that tells us is that no expense has been spared in the use of high-quality component parts. An easy way to skimp is to save money on the internal parts that you cannot see but this is certainly not the case with this appliance.
When you touch and hold it, you get assured you that this is something that is more likely to last for decades rather than years. Everything about it just feels strong, sturdy and durable.
It looks pretty good as well with a nice large, transparent container for the ground coffee so you can see exactly how much you have with a convenient line to tell you the level that should not be exceeded.
Its finished in a mix of a matt platinum colour and black matt showing that Baratza recognise this as a product for the home market that needs to look good as well as be functional and they have done a good job creating a grinder that exudes class and elegance.
The dimensions are 35cm tall, 12cm wide and 16cm deep making this pretty compact for what it is.
Functionality 10/10
A nice cone-shaped transparent bean "hopper" (container) sits on top of the grinder and can hold up to 227g of beans which equates to about 10 double espresso's. Plenty of capacity to ensure that you are not having to refill it all the time.
This is a lot more than just another kitchen appliance. It's a piece of engineering in its own right. A high-quality internal motor ensures that the speed at which the burrs turn is limited to 450 RPM (revolutions per minute) to make sure that the beans stay cool and also helps with the consistency of grind which is very important.
The powerful motor also makes for a much quieter grind so you will be able to speak and grind at the same time!
These are the kind of things that make the difference between a good cup of coffee and a brilliant cup of coffee.
To make sure that no stone is left unturned, you get to choose from 40 different grind settings, just in case 30 wasn't enough!! You can fine-tune to your heart's content knowing that whatever kind of grind you need The Baratza Virtuoso coffee grinder will be able to accommodate you.
To adjust the grind size just turn the container that holds the beans to the right or left to increase or decrease the grind size. The lower the number the finer the grind. Around 10 will be perfect for espresso (very fine) and about 30 for Cafetiere. (very coarse).
As well as grinding your coffee straight into the container you can also grind straight into a portafilter ready to go straight into the coffee machine if you wish.
Simply remove the container and hold the portafilter as shown below. Press the button on the front with your thumb and you will be good to go in seconds as the Virtuoso grinds 2 grams of coffee per second which is about twice the speed of the average coffee grinder.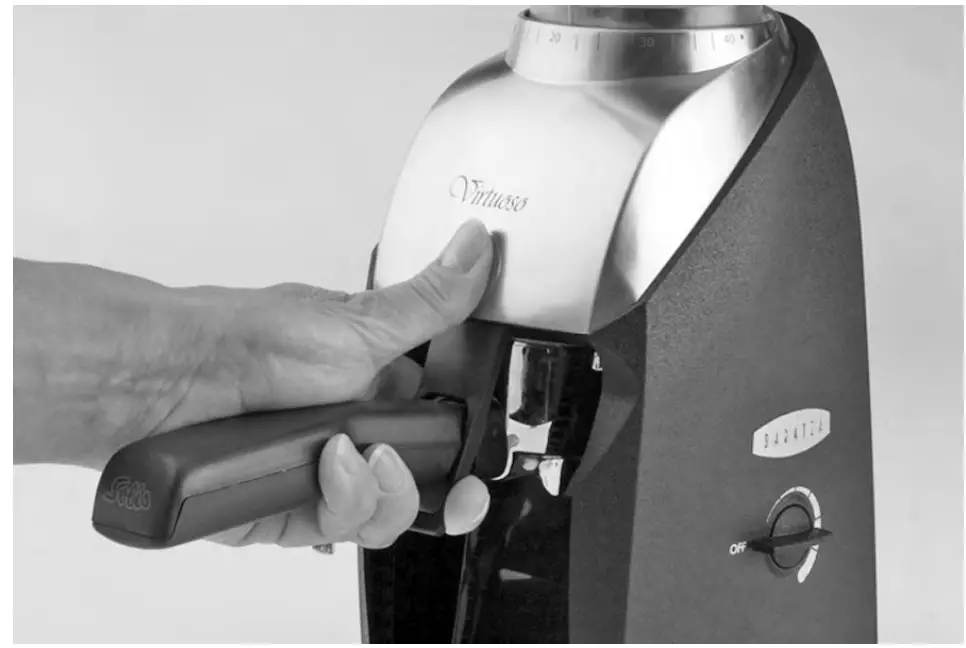 Ease of use 10/10
There are two ways you can grind the beans. To grind enough for just one or two coffees just press the button on the front of the machine and release when you are done.
To grind larger amounts there is a dial on the side that will grind for up to 60 seconds when set to maximum. Whether you are doing coffee for yourself or you have the whole extended family over at Christmas this grinder will be able to accommodate at the touch of a button or the turn of a dial and its super easy to use.
Value For Money 9/10
Once you understand the quality of the build both internally and externally, you quickly realise that although this is a high-cost item it's not expensive for what it is.
Commercial-grade components are being used in a domestic coffee grinder that delivers consistency and quality of grind that is normally reserved for coffee shops.

Last update on 2023-11-27 / Affiliate links / Images from Amazon Product Advertising API