There's nothing quite like a fresh cup of coffee in the morning to prepare you for the day ahead. It stimulates the mind, warms the insides, and energises the body. What more could you want? A vital component in achieving fresh-tasting homemade coffee is an effective coffee grinder.
This will help you to produce a precise, even grind which is essential for all coffee-making machines. 
If however, you're left with a poor-quality coffee grinder, you'll end up with uneven grounds, and subsequently, a poorly extracted, saturated brew. Therefore, selecting the right coffee grinder for your home set-up is an important decision. 
While hundreds of different options will emerge with a couple of simple searches online, the vast majority of coffee grinders on the market are poor-performing machines and represent terrible value for money. 
So, to make things easier for you and to remove some of the stress around the selection process, I've done some of the hard work. Below you'll find a list of 5 of the best coffee grinders on the market.
I've also put together a handy buyer's guide to further remove any confusion when selecting the best machine for you.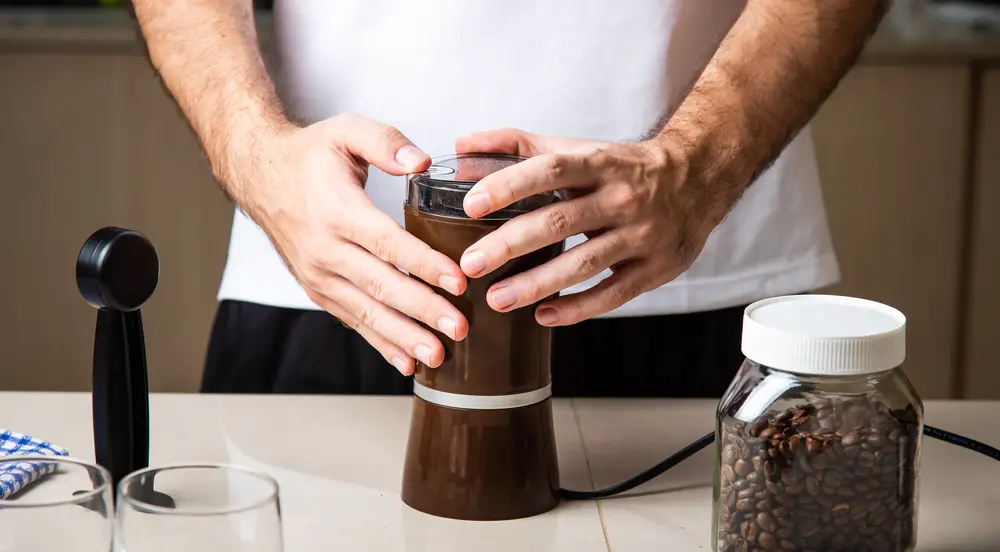 Best Coffee Grinder
No products found.
The first grinder on the list is the Krups F20342. This small electric blade grinder is built with a stylish, ergonomic design and is easy and efficient to use. It's also incredibly affordable for those working to a tight budget.
It has a 75g milling capacity which is enough to serve 15 cups in one sitting – ideal for having guests over. The machine, with twin stainless steel blades, is equipped with a single-speed setting and can mill coffee beans at the simple touch of a button. The longer you mill, the finer the blend you'll be left with. 
An impressive feature of this grinder is its lid-activated safety switch. This ensures that the machine won't operate unless the lid is locked in place, giving you added peace of mind. 
It's also worth noting the versatility of the F20342. Not only is it highly efficient at grinding coffee beans, it can also be used to grind dry ingredients such as nuts and spices. 
Pros:
Large milling capacity of 75g which can serve up to 15 cups at a time.

Easy to use, ergonomic design.

Lid-activated safety switch for extra peace of mind.

Single-speed system mills beans at the touch of a button. 

Versatile enough to also grind nuts and spices. 
Cons:
Several users have reported that the lid of the machine is prone to cracks.  
No products found.
No products found.
This electric coffee grinder from Muzili is powered by a large 200W premium motor that can run up to 22000 rpm. It's great for high grinding efficiency, ensuring you won't have to wait too long for your morning cup of coffee. 
The machine itself is built with stainless steel material, equipped with built-in slotted stainless steel blades. These are both safe to use and also durable for long-lasting use. In addition, the noise caused by the machine is less than 60dB during use, so will never be too much of an irritation for you and your family. 
This grinder can be operated by a slight push-contact for between 10-40 seconds, with the button built into the top cover of the machine for convenience. It has a 50ml capacity which is enough to grind coffee powder for roughly 12 cups of coffee at a time. 
Like the Krups F20342 grinder, this machine can also be used as a multifunctional grinder for other ingredients. Some of the most popular ingredients for this include spices and herbs. 
Pros:
Premium powerful motor provides high grinding efficiency.

Stainless steel material with built-in slotted stainless steel blades. 

Limited noise caused by the machine during use – less than 60dB.

Multifunctional grinder, so can also be used to grind other ingredients. 
Cons: 
The lifespan of the machine isn't as long as some of the other grinders on this list. Many users report the machine smoking at the base after just a couple of uses. 
No products found.
The De'Longhi KG79 is a great option for those who want a degree of control with their coffee grinder. This is because the machine has a fineness selector which allows you to choose your desired ground coffee setting from 17 different options. These options range from fine to medium to coarse. 
The KG79 is a burr grinder rather than blade, so is equipped with two grinding wheels. These not only produce more consistent grind sizes, but also prevent the machine from overheating, as well as preserving the fantastic coffee aroma. 
In addition to the fineness selector, this grinder also has a cup selector. All you need to do is select your desired amount (between 2-12 cups), and let the machine get to work. The cup selector will then automatically shut off the grinder after the required amount of beans have been ground. 
Another impressive feature of the KG79 is how easy it is to use. The grinder has a removable transparent tank which collects the ground coffee, as well as a transparent bean container and top lid. The process from top to bottom, start to finish, couldn't be easier! 
Pros:
Fineness selector provides you with a number of different options of how fine you want your coffee ground.

Burr grinding system produces consistent grind sizes, prevents overheating, and preserves coffee aroma. 

Cup selector can be adjusted for the amount of coffee you need. 

Built-in storage helps you tidy the machine away quickly and neatly after use. 

Extremely easy to use with the bean container, top lid and removable tank all transparent. 
Cons: 
The coffee often isn't ground finely enough for an espresso machine. 
Sale
The CG250 grinder from Duronic is equipped with a fast 250W motor which can effortlessly grind through coffee beans. It's designed with a super simple push-down top operation so all you need to do to start the rotation of the blade is to simply place your hand on top of the grinder and press down.
When you've reached your desired consistency, lift your hand back off and the blade will stop. 
The machine has a bowl capacity of 75g, so perfect if you have family or friends visiting. It also has cable storage in the bottom of the grinder which helps to keep everything neat and tidy in between use.
The CG250 is not only easy to use, it's also incredibly easy to clean. The grinder has a removable bowl which enables you to remove the ground coffee from the grinder and take it to wherever you need. This makes it even easier to wipe down and soak afterwards.
It's important to make sure that both the stainless steel bowl and the stainless steel blade are clean and dry before each use. 
Pros:
Powerful grinder with 250W motor to effortlessly and quickly grind your chosen coffee beans into powder.

Push-down top operation makes the grinder super simple to control.

Removable bowl makes it easy to transport the ground coffee to wherever you need it, as well as making it easy to clean afterwards. 

Large bowl capacity of 75g, suitable for serving a number of people. 
Cons: 
Several users have reported the machine burning out within a few months. 
No products found.
The electric burr grinder from Sboly is super easy to use with a one-button operation and a 12 cup capacity. The machine itself is compact, and designed with a fashionable stainless steel appearance.
This professional grade design ensures the beans retain all their essential oils, providing the richest quality flavor and the best-smelling aroma. 
The machine is equipped with stainless steel conical burrs which are not only ideal for efficient grinding, but also provide a high degree of control over grind size. There are 19 precise grind settings, so the machine can cater for all brewing needs ranging from espresso to french press.
The upper conical burr is also removable, which makes the cleaning process significantly easier. 
This grinder is a lower-rpm machine which subsequently reduces noise and heat output. When in use, the noise level will never exceed 62dB which is far below the standard noise output for most coffee grinders. 
Pros: 
Stainless steel conical burrs provide efficient grinding and control over grind size. 

Lower-rpm machine so less noise and heat output.

Easy to use with touch button operation and the ability to grind up to 12 cups at a time. 

Easy to clean with a removable upper conical burr and a brush which is included with the machine. 

Fashionable and compact design which makes storage easier. 
Cons: 
Several users have reported that the machine makes quite a bit of mess during use. 
No products found.
Buyer's Guide
When it comes to finding the best coffee grinder, there are a number of factors that you need to consider to ensure you get the best machine for your individual needs. 
Below, I'll take a look at some of the most important areas to focus on when choosing your ideal grinder. Giving a little extra thought to these will help steer you towards the perfect option, saving you both time and effort in the long run. 
Ease of use
The last thing you want with a coffee grinder is for it to be complicated, cumbersome and generally unpleasant to use. Instead, you need a machine that's simple to load up and enjoyable to use. 
Coffee grinders vary in how complicated they are to use and clean, so make sure you read through reviews before purchasing a machine. After all, you'll be much more likely to appreciate your grinder and enjoy your coffee if you don't feel annoyed and stressed every time you use it. 
Grind settings
If you and your family drink a wide variety of different coffee types, then you'll need to invest in a grinder that has the ability to grind the perfect consistency for each one. The amount of settings a machine provides is usually denoted by the grinder being described as either "stepped" or "stepless". 
Stepped grinders typically provide you with a set number of settings that you can select before grinding your coffee beans. On the other hand, stepless grinders allow you more options since they don't have established settings – you can simply choose from a general range.
Stepless grinders are great because your options are pretty much unlimited, however they do tend to cost a little more than their stepped counterparts. 
Type of grinder
During your research, you'll come across three main types of coffee grinder: electrical blade grinders, electrical burr grinders and hand grinders. Choosing the best kind of grinder all depends on what type of coffee you like to make, how much you make, and the degree of flexibility you're after with your machine. 
Blade grinders are equipped with a spinning blade inside that serves to cut the beans down to your desired size. These grinders are perfect for producing the rougher medium grounds needed for filter or cafetiere coffee.
They're relatively simple and inexpensive machines, but not the most effective at producing a consistent fine grind. Therefore, they're not ideal for espresso. 
Electric burr grinders crush coffee beans with a small gear-like system. This produces a more consistent, fine grind for making espressos. They're also incredibly versatile and can make rougher grounds if you'd prefer a filter coffee. 
Electric burr machines can grind a large amount of coffee beans in one go, and don't exert the same kind of force or heat that blade grinders typically do. The only downside is that they tend to be a little more expensive than the other types of coffee grinder. 
The final type of coffee grinder you'll find on the market are hand grinders. As the name suggests, these inexpensive machines require you to grind coffee using your own arm muscle. Most hand grinders come equipped with a burr inside them, so it's a cheap way to achieve a high-quality grind.
If you're only looking to grind a small portion of coffee at a time then hand grinders can be a good option, however for anything more than a couple of portions, it'll take both time and a fair amount of physical effort. 
Flat vs conical burrs
Burr grinders come in two different types: flat plate and conical. Flat burrs are better at grinding coffee beans down into a more consistent, fine grind. These, however, are much pricier than their conical burr counterparts. 
Conical burr coffee grinders can grind beans into two slightly different particle sizes which is useful in espresso machines. They're also much quieter and cheaper. 
Noise
While grinding coffee beans is always going to create a certain amount of noise, there are some grinders that can be excessively noisy. So if you're sensitive to a lot of noise in the house, it may be worth investing in a quieter machine – especially as you'll often be using it early in the morning.
It's worth noting that burr grinders tend to be quieter than blade grinders. 
Capacity 
Coffee grinders are all designed with differing levels of capacity. If you want a grinder that can grind large quantities at once, perhaps for a big group of friends or enough to last several days, you should choose a machine with a bigger capacity. 
Generally, you do get a better flavor from your coffee if the beans are freshly ground beforehand. So if you're not going to be making coffee for several people, then you won't necessarily need a high-capacity grinder. 
Size 
This is a practical consideration that always needs to be factored into your decision-making process. It's important to think about exactly how much of your countertop space you're happy to dedicate to a coffee grinder.
These machines aren't particularly large, but it's essential that the grinder you select will fit nicely into the space you have in mind. Blade grinders are usually compact, similar to the size of a small blender, whereas burr grinders are much bigger. Some burr grinders can even be larger than your actual coffee machine. 
Frequently Asked Questions
How do I keep my coffee beans fresh?
Most coffee beans go stale pretty quickly so it's essential you store them correctly. The best way to do this is to keep them in an airtight container and avoid sunlight – a cool, dark place is usually the best option. Avoid using the fridge too. 
How fine should coffee be ground?
This all depends on the machine that you're using. For espresso you'll need a fine grind, filter coffee a medium grind, and cafetiere a coarse grind. With blade grinders you'll have to judge the fineness of the grind by eye, whereas with a burr grinder, you can choose one of the many grind settings. 
Last update on 2023-11-07 / Affiliate links / Images from Amazon Product Advertising API