When it comes to coffee, we all know that nothing beats espresso made in a coffee shop, the proper way. Of course, this is very difficult to replicate from how, and that freeze-dried instant stuff just doesn't cut it.
Now, before you condemn yourself to a lifetime of bad coffee (that is, until your next trip to the coffee shop) what if we told you there was a way you can get barista level coffee from the comfort of your own kitchen? 
No, this isn't some trick question, and there is certainly no magic involved! There just so happens to be an easy way to get coffee shop style coffee at home, and all you need is the Sage Barista Express – see, we told you it was barista-worthy! 
In this article, we will be exploring the Sage Barista Express in-depth. We have taken our time to review it and aim to provide you with a comprehensive guide based on what we truly thought of it – spoiler alert: you are going to want one! 
So, if you have been considering getting a barista-style coffee maker for your home, or have been wondering if there was some magical way you could get that coffee shop feeling in your own kitchen, this just might be the article for you.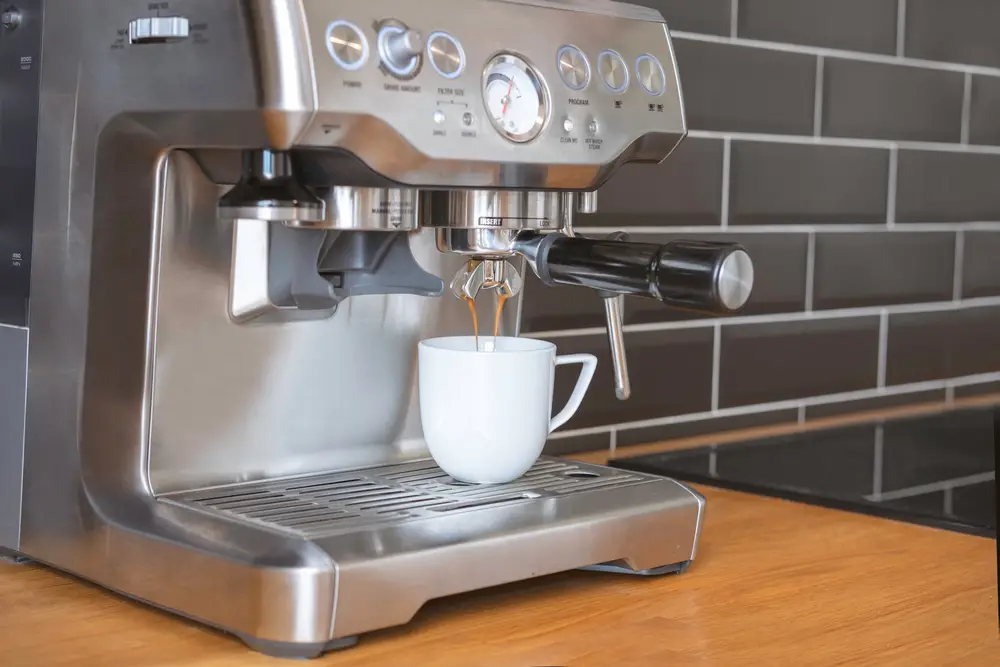 Company Overview 
Before you go ahead and read about our thoughts on the Sage Barista Express, we felt it was particularly important that you find out more about Sage as a brand.
Whilst it is not always essential to know about the brand behind the product, in the case of an investment like this, it is always good to be reassured that you are buying from a quality company, and take it from us when we say that this company is pretty impressive! 
Sage is a brand owned by the Breville Group. They formed in 2013 and closely align with Breville as a whole. Of course, you may well have heard of Breville since they are a leading name in the kitchen appliance industry, having been in operation for over 80 years!
As such, Sage is a well-known, trusted brand with an excellent reputation, specializing specifically in providing the UK market with top of the range quality food gadgets and appliances such as processors, espresso machines, coffee accessories, and much more. 
Sage are perhaps best recognised for their eye-catching, modern designs, using lots of grey and silver colours, achieved through the use of brushed stainless steel as a material. This means that their products are both timeless and sophisticated. 
You can be assured that if you buy from Sage, you are getting the guarantee of over 80 years of experience, thanks to the fact that they are owned by Breville, ongoing customer support, high-quality products, and competitively priced stock.
We can assure you that since their launch in 2013, Sage has gone from strength to strength and each product of theirs that we have reviewed has impressed us. Keep on reading to find out whether the Sage Barista Express has also impressed us in the same way… 
Product Overview 
The Sage Barista Express espresso machine is a fantastic addition to any coffee-lovers kitchen. It is available in two colours – the synonymously-Sage colour of Brushed Stainless Steel or a sophisticated Black Sesame.
It is an all in one espresso machine, designed to give you the perfectly brewed espresso from bean to cup in just under a minute! Sounds like magic, right? 
From grinding up your coffee beans to extracting the espresso at the exact temperature you desire, this clever little machine can do it all. It does this thanks to the grinding size dial and precise temperature control settings, allowing you to choose exactly what you want, according to your preferences. 
Something that all coffee enthusiasts will love is the fact that you can pretend you are at *insert favourite coffee chain here* but from the comfort of your own kitchen thanks to the clever micro foaming steamer tool. This will allow you to create foam art (also known as latte art).
Sure, it might take you a while to master anything that doesn't look like a swirly mess, but the fun is in trying! 
Now for some specifics. In terms of size, the Sage Barista Express is moderately sized. It is more compact than most espresso machines on the market, though, and will not look out of place in your kitchen. The exact dimensions of it are as follows: 32.5 x 31 x 40 cm.
As boring as figures may seem (after all, you just want the coffee, right?) it's important to take note and measure up space on your counter for it! 
The capacity of the espresso machine is a 2-litre water tank and a 250-gram tank for coffee beans. The grind size is adjustable too, so you can choose what you prefer, knowing you can do 250g at a time. 
The construction is made from brushed stainless steel which ensures it is durable, sturdy, and stylish, all at the same time. As if the sturdy construction wasn't enough reassurance, it also comes with a 2-year warranty as standard for the repairing, replacement and refund of the machine, should there be an issue. 
Lastly, the machine can pour a single or double shot of espresso, all heated and powered by an 1850 watt Thermo coil integrated water path, which heats water accurately and in a controlled manner. 
Sale
Features 
Dose controlled grinding 
The Sage Barista Express features a conical burr grinder that is integrated into the coffee machine. It grinds on demand according to how much coffee you need. It does this by delivering the exact amount of ground coffee into the portafilter provided, based on whatever taste and roast of coffee bean you prefer. 
Grind size dial
Whatever coffee bean you have chosen to grind will not be a problem for the grind size dial. This will allow you to control the exact grind size you get to suit your preference! It is simple to use and intuitive. 
Steam wand for foam milk texturing 
Remember when you thought it was only baristas who had the skills to create intricate foam art atop your latte? Well, not anymore! The steam wand is a lovely bonus feature that allows you to control the milk microfoam in your coffee and even to create latte art, should you wish! Get practising those love hearts! 
Hands-free operation 
Thanks to its hands-free capabilities, the Sage Barista Express allows you to grind your coffee straight into the espresso portafilter! 
Optimal Espresso Extraction 
There is digital temperature control (also known as PID), meaning you can get your water poured at exactly the right temperature for optimal and precise espresso extraction 
Compact size 
It fits easily into your existing kitchen layout and does not take up masses of space, unlike other espresso machines. 
What we liked 
As this is a review, we thought it best to share some of the highlights of the Sage Barista Express. That is, we want to share the things that we loved about it: 
Easy to set up and very straightforward to use 

Cleaning is easy, taking just 5 minutes a time and only needing a clean around once a week 

Professional barista-style coffee from home each time thanks to the accurate measures and frother 

You get fresh coffee straight from bean to cup very quickly (less than one minute in fact) 

The customer support is excellent in case of any queries 

Sophisticated style with a choice between silver or black 

Sturdy construction to ensure longevity 

Great size that is not too bulky and fits well in most kitchen setups 
What we didn't like 
As with any review, we understand the importance of being upfront as such, it is only fair that we share some of the aspects of the Sage Barista Express that we didn't enjoy so much. 
The black version of the machine is prone to tarnishing and scuffs causing cosmetic issues 

The effort required is a little more than the one-button process promised

It works best with high-quality

fresh

coffee beans which can prove expensive if you are buying them regularly

The grinder can be temperamental if there is too much coffee in there so it is best to grind small amounts at a time
Final verdict 
All in all, we are extremely impressed with the Sage Barista Express espresso machine. It produces fantastic quality espresso every time and does so in a quick manner.
If you find that you are spending a lot of money in coffee shops every morning, this will certainly be a worthy investment that will have you breaking even in no time at all in terms of money spent. Setup is easy and it is straightforward to use.
Sure, it can be a little tricky to clean, and the process of using it requires a little more effort than just pushing a button, but we truly think the resulting cup of coffee is worth it! Buy yours today and see for yourself how impressive it is! 
Last update on 2023-11-07 / Affiliate links / Images from Amazon Product Advertising API