This Nespresso capsule holder allows you to get to any individual capsule you want without having to move any of the other capsules out of the way first which makes it the best possible way to store your Nespresso Vertuo pods.
It's also a really funky design that is going to look really cool next to your Nespresso coffee machine
This is a strong, sturdy, well built, modern Nespresso capsule holder that will save time and space in any kitchen.
Strong & Sturdy. Beware of the cheapest pod holders because they can only get to a low price by using very thin metal that is often not stainless steel and are extremely lightweight so if you knock them accidentally then the whole thing will tip over. This one is finished in a classy shiny chrome and stainless steel finish and is robust enough to withstand some knocks without tipping it over.
Well Built. It has a great centre of gravity and a good solid flat base with a felt covering on the base to ensure that it's not going to scratch the surface you keep it on unlike some of the cheaper holders that keep the price down by not putting on things like a felt base. it's a false economy because they just won't last as long.
Modern Design. Most capsule holders are functional rather look good which is fine but you have opted for a Nespresso machine that takes Virtuo capsules. These machines look really good so matching it up with a capsule holder that looks equally good is going to compliment the coffee machine perfectly.
Convenience. This "tree" design makes it look like the capsules are hanging from the holder and one finger will get any capsule off the holder and into your machine in under 5 seconds. One of the main reasons you bought a Nespresso machine in the first place is quick, no hassle coffee.
This holder makes it even more convenient for you to make a coffee in double-quick time. It also spins in a swivel base so you can effortlessly move it round to the front without having to bend your hand round if it's tucked away in a corner.
Saves Space. The convenience of the coffee machine goes out the window when you have to rummage through the cupboard to get to the cardboard sleeve you are looking for. If your cupboards are anything like ours then they are full already do you end up putting the Nespresso capsule sleeves on top of other jars and packets and it just becomes a pain to find what you are looking for. Free up space and immediately find what you are looking for with this capsule holder.
A lot of the other coffee pod storage holders are column based so as long as you keep them correctly colour coded and each specific flavour is in one column then you can get to the one you want without any hassle.
However, what we have found is often the case is the column pod holders hold 10 to a column and you can easily end up with 5 of one flavour and 5 of another in the same column and you can only access the pod from the top of each column so you end up having to fish out the ones you don't want to get to the one you do.
In our house, we like different flavours and somehow I always found that my ones were the ones at the bottom and I was left to dig out the one I wanted. Call it a coincidence or was there something more sinister in place?
On the flip side maybe it's because I'm the lazy one and my partner always fills up the holder so she deserves to have hers at the top?
With this holder, because of the clever design, every single capsule is accessible regardless of where you put it.
You can store them neatly colour coded the same on each level or you can dot them around so that they are completely mixed and it makes no difference at all in terms of the speed at which you can access each pod.
This may be a little more expensive than some of the other holders but you will be glad you spent the extra few pounds because this is something that is going to last you for the life of your coffee machine (and longer!).
This holder is only compatible with Virtuo capsules but it does fit all 5 sizes from Espresso through to Alto.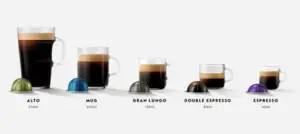 This is the funkiest, most functional, best value capsule holder we have reviewed for any Nespresso machine that takes Vertuo capsules.
Brilliant as a present for yourself or a gift for any Nespresso household without a capsule storage holder.
Last update on 2023-11-07 / Affiliate links / Images from Amazon Product Advertising API