The search for the best coffee pressing method is a continual battle, particularly if you're looking for one that covers all bases: you want ease, affordability and efficiency.
Enter the Aeropress. 
The AeroPress is a manual coffeemaker invented by Alan Adler in 2005.
It uses a "french press" method, consisting of a cylindrical chamber and a plunger with an airtight silicone seal.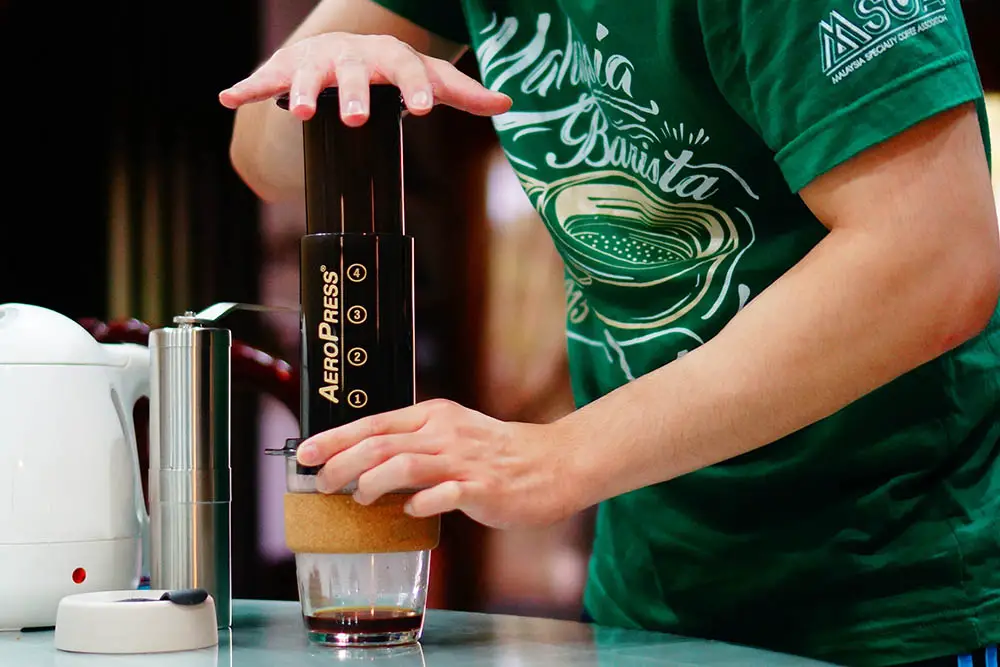 By steeping ground coffee beans in water, and then forcing them through the filter by pressing the plunger, the AeroPress is capable of creating highly concentrated "espresso style" coffee, filter strength coffee, or even cold brews. 
After taking a couple years to establish its credibility in the world of coffee connoisseurs, sales of the AeroPress sky-rocketed across the USA and in over 60 countries worldwide.
But what separates the Aeropress from the coffee presses and machines of competitors? 
We've put together this extensive review of the Aeropress so that you can decide whether or not it's right for you. 
What does the Aeropress give you? 
One of the stand-out features of the Aeropress is convenience. It provides you with high-quality coffee in a very short amount of time. In just one minute you can brew 1-3 cups of both Americano and Espresso style coffee, making it great for early mornings, work, and coffee on the go. 
It's also extremely light and portable, so it's ideal for travellers.
Aeropress have also recently taken their design to the next level with the Aeropress Go, which is a travel version of the press, however, the original Aeropress is portable and lightweight in itself. 
Thanks to its remarkably low acidity, Aeropress creates coffee that is rich and smooth, yet free of acidity. The microfilter technology also eliminates any coffee "grit" – so unlike the french press you won't get any coffee grits at the bottom of your mug.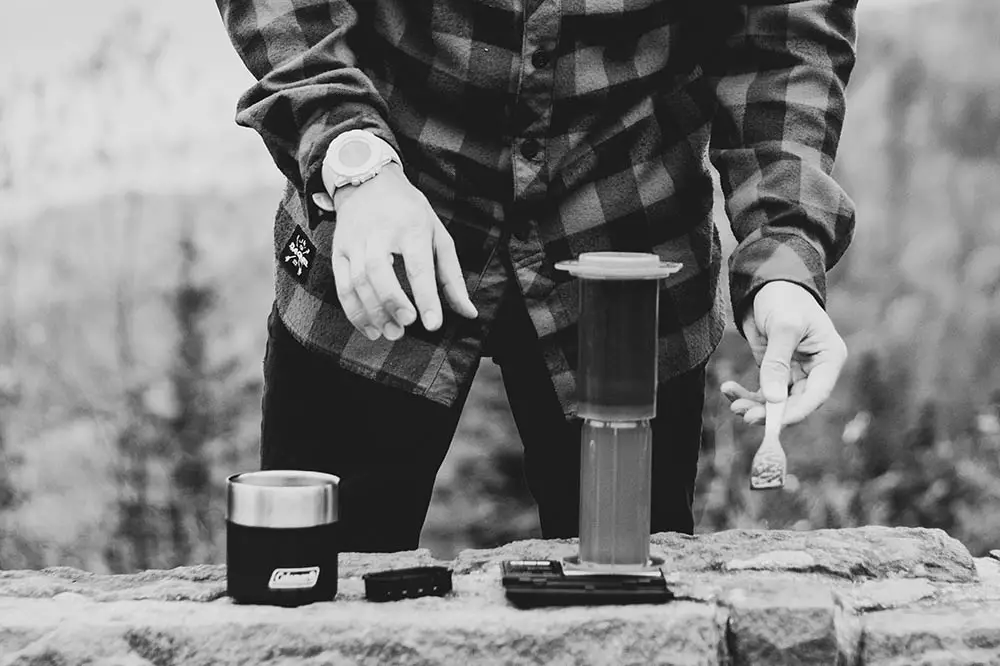 Ease of Use – 5/5 
Whether complex coffee machines are daunting to you or you're an experienced barista, Aeropress offers straightforward brewing that anyone can get a handle on. 
It couldn't be easier to make a cup of coffee in an Aeropress. Here's how you do it: 
Push plunger out of chamber.

Put the filter in the filter cap.

Twist filter cap onto chamber.

Stand chamber on a sturdy mug and put one rounded scoop of fine drip grind coffee in the chamber.

Shake to level coffee.

Add water up to Level 1 on the chamber. 175°F (80°C) water for hot brewing or tap water for cold brew.

Stir about 10 seconds for hot brewing or 1 minute for a cold brew.

Insert plunger and press gently, pausing when you feel resistance, until plunger reaches the grounds.

Remove filter cap, push plunger to eject used coffee and rinse seal.

 For Espresso style, drink as is; for Americano, add water to fill an 8 oz. (237 ml) mug; for Latte: add milk to make an 8 oz. (237 ml) latte; and for cold brew, add tap or ice water to make an 8 oz. (237 ml) mug of cold brew.
There's also a myriad of demo videos on Aeropress's website which illustrate how simple it is to make coffee with Aeropress. 

Taste – 4/5
The Aeropress makes great tasting coffee that's smooth, rich and most importantly, less bitter than other methods. This is down to its low acidity levels thanks to the brewing process. 
Aeropress coffee has 1/9th the acidity of the French press, and 1/5th the acidity of drip coffee. 
The Aeropress's micro filter system produces highly concentrated coffee that is free of the annoying grits found in French press coffee, which is also a great advantage. Coffee is smoother and more pleasant to drink, and is less likely to be over-extracted. 
Versatility/brewing control – 4/5 
The Aeropress is far from a one-trick pony. It can be used to make Espresso, Americano, Latte and cold brew coffee. You also have full control over the brewing process. 
If you're somebody who likes their coffee made a particular way, the Aeropress allows you to choose the grind size, water temperature and extraction time, so you have full control over your brew.
It comes second only to manual pour overs that allow more room for pulse brewing and agitation. Having more control over the variables of your coffee brewing process means you're less likely to be pouring half of your coffee down the drain. 
Portability – 5/5 
The Aeropress is super convenient, so if you're looking for something you can use at home, but also at work or when you're on holiday, this is a great option. 
It's compact and lightweight, and being made of durable plastic, it can't be easily damaged like a French press or a Chemex can. It's also perfect for camping or road trips, as it doesn't require any electricity.

Durability/materials – 4/5 
The most recent version of the Aeropress has a chamber and plunger made from BPA free polypropylene which is durable and long-lasting, as well as lightweight and portable. 
The seal is made of silicone, a material used for its non-toxicity and excellent resistance to heat. The AeroPress has always been free of phthalates and has been free of BPA since August 2009.
Value for Money – 5/5 
The Aeropress is great value for money, not only due to the affordable price, but also because of the durable materials used to create it, which means it lasts a lot longer than a French press which can crack or break easily. 
You get everything you need with your purchase of the Aeropress, as well as 350 microfilters, a stirrer and a handy scoop, so you can start brewing straight away.  All you need is your ground coffee beans of choice.
Cleaning 5/5 
This is another major selling point of the Aeropress – clean up is super straightforward and hassle-free. 
Thanks to the filter process,  you won't get any annoying leftover grounds and residues in the Aeropress after brewing, unlike with the French press. All you need to do is push the plunger to eject the used coffee and rinse the seal. 
However, the Aeropress may not be for you if…
You prefer larger quantities of coffee –

in which case, perhaps a machine or large French press would be better as these are available in different sizes.

If you prefer a more robust and coarse tasting coffee

– again, the French press will probably be more to your taste if so. 

You want more complex features.

The Aeropress isn't designed to be fancy and excessive, it's a simple design which aims to make good coffee, quickly. If you want a greater range of features or the ability to froth milk and make many different drinks, you'll be better off selecting a Nespresso or Keurig machine. 

You want a portable coffee maker you can actually drink from

. While the Aeropress is quick and convenient, you still need a mug to pour your coffee into. So if your main priority is a brew method that's completely integrated and portable, go for a hybrid of a coffee maker and a travel mug instead, such as the Oomph coffee, or the Cuppamoka. 
The Aeropress is for you if…
You want smooth, rich, great-tasting coffee

You're not a fan of the gritty, acidic taste of French press coffee 

You want a brewing method that is quick, simple and effective 

You want full control over your coffee brewing variables 

You want to minimize the amount of space taken up by your coffee machine/press 

You want a product that is lightweight and portable 

You have a tight budget, but still want something that is good quality and durable 

You want to be able to make hot and cold brews, as well as espressos and lattes 
Final Verdict 
The Aeropress is a truly great product and we don't expect it to disappear from the scene anytime soon, as this coffee press has earned its place amongst the world's most popular and highly respected coffee brewing brands. 
While it's not the most aesthetically pleasing design, this can be taken as a good thing, as the simplicity of the Aeropress allows for great tasting coffee that's ready in just 1 minute. 
The taste is perfect for people who prefer a mellower, smoother coffee that has less acidity than drip coffee or French press coffee. 
We also really love how easy this product is to clean, there's no scrubbing at filters or deep cleaning required, just plunge, discard the used coffee, and give the parts a quick rinse. 
The Aeropress is perfect for anybody who wants quick, convenient coffee which happens to taste great, and is also ideal for campers and travellers thanks to the portable, lightweight design.
It's also available for a great price, and the quality of this product means you'll have it for years to come. 

Last update on 2023-12-09 / Affiliate links / Images from Amazon Product Advertising API