If you want to use scientific terms for your coffee, an espresso cup, or Demitasse, it is a mug with smaller coffee servings.
The French word for 'half-cup' is Demitasse, which explains their size. Serving an espresso shot in a cup that is suitably sized helps boost flavour, maintain heat, and looks a little fancier as well. You may also buy doppio espresso cups or double shots.
There's a fine science behind the ideal espresso cup, so we checked the internet to find the best around you and tested them, so you know why they made our cut.
How Big Are Espresso Cups?
Technically, espresso should be around 1oz, which is just over 30ml. There would be about 60ml or 2oz of a double. Ideally, for better drinking, you should leave a bit of room at the top of the cup, so the cup should be able to hold more than you drink.
An espresso cup can vary in volume, but somewhere between 2oz and 3oz is ideal (90ml). 80ml and 100ml are the most common sizes. Of course, opt for a cup that is 103ml to 120ml if you drink a doppio espresso (double shot).
With the amount of coffee they put out, some devices may differ. It will probably be quite a bang-on if you have a dedicated espresso machine, but multi-coffee maker machines will give you more. Before you buy, check.
Espresso Cup Buying Guide
Number Of Cups
There are several set sizes available for espresso cups, from one lone Demitasse to a set of six or more. Two and six are the most common variations, which is a good balance between not having too many or simply having enough.
Saucers
Some cups of espresso come with saucers. These can be nice if you're going to serve guests espresso, or if you want the cup to rest somewhere while you drink it slowly.
The saucer will normally hold a spoon for stirring and a biscuit or sugar cube in cafes and coffee shops.
Material
Glass and ceramic/porcelain are the two most common materials for espresso cups.
The latter is also the best, since it absorbs heat better, spreads the heat around the cup and is, therefore, easier to pre-warm so that your coffee is poured for better taste and longevity at the correct temperature. Anything else can cause the espresso to go flat faster as well.
But there's no denying that glass is eye-catching, enabling you to demonstrate your espresso skills, which is why it's so common. Existing décor and coffee machines are also easier to match. As long as it's double-walled, glass is fine, which will retain the heat much better and also shield your fingers when you lift it to drink. It will prevent the glass from being broken as well.
Steel mugs can also be considered, but they are not so good for insulation and can add a metallic taste to the coffee. They can be durable and unbreakable on a positive note but are usually not a common option.
Avoid cups made of paper, plastic and styrofoam, since they are not just disposable and not great for the planet, but they have low heat retention and may become too warm to carry. You should also avoid cheap metal cups because they can be difficult to clean, and with the liquid and heat, they may rust or tarnish.
Shape
You want something that hugs the espresso, which not only promotes crema production but keeps the drink warmer for longer as well.
Cups that taper at the bottom allow the crema to float to the top where more room is available.
There are shapes that are a little different out there, such as rectangle, but these are not recommended because they add little to espresso's experience and harm the taste.
Rim
We're going to forgive you for not thinking about the thickness of your espresso cup, but it might be important.
Not only do thicker cups retain heat better, but espresso professionals say that a thicker, rounded rim allows their lips to sit on the cup more comfortably, making it easier to drink.
Colour
Mostly, down to personal preference. You may want something that suits an existing set of cutlery or dinner set, something that suits your décor or just looks good under your coffee machine.
But a lot of coffee experts will say that your Demitasse's inside has to be white. This boosts the look of the espresso because when looking into the cup, you can see the caramel crema. White cups and mugs can also better show the coffee's strength.
Handle
Some cups of espresso have one, and others don't. Given the size of the Demitasse, it can be difficult to design the handle.
Those who do have one can encourage the customer to pick them up this way, but it can be important to have form and ease. Anything too tiny for a finger to fit through and it's fiddly. Anything that is also round can be difficult to hold. It can break easily or feel rather flimsy if it is too thin – they are also easily dropped compared to other styles. The larger the Demitasse, the more likely it is to need a handle.
Dimensions
Are you using a coffee machine for espresso? To safely pour the drink into space and on the platform, check that your chosen cup will fit in.
Just because two espresso cups' capacity is the same does not mean that they are the same height or width. A cup shouldn't be too big in circumference, as you'll read below.
Why Are Espresso Cups So Small?
Since espresso is literally a small serving, there's nothing, legally, to deter you from getting espresso in an ordinary mug. A smaller cup, however, assists with the overall taste and serving.
An espresso should have a crema coating on top of it, too. This crema will spread further if an espresso mug is too big, which in turn means it will disappear faster.
There is also more surface area for bigger cups, which suggests that the espresso gets colder faster.
The Best Espresso Cups
Here are some of the best espresso cups for you to use at home or work. They range from double walled espresso cups to stainless steel and some even have their own saucers… very smart. Let's take a look.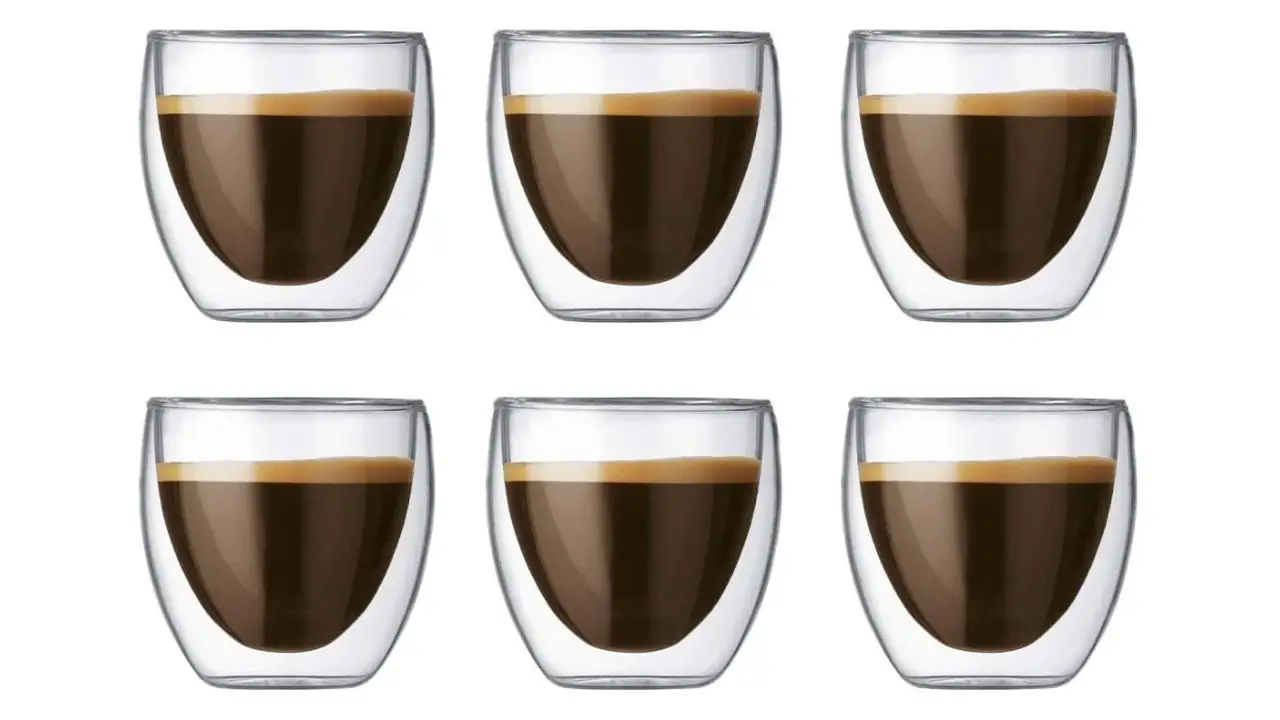 Without burning fingers, the Pavina double wall glasses keep hot drinks hot, and cold drinks cold without messy condensation, making them the perfect glasses for any beverage, from cocktails to cocoa. Bodum's proprietary double wall glasses feature two walls of borosilicate glass, individually mouth-blown by expert artisans, providing a highly efficient insulation layer.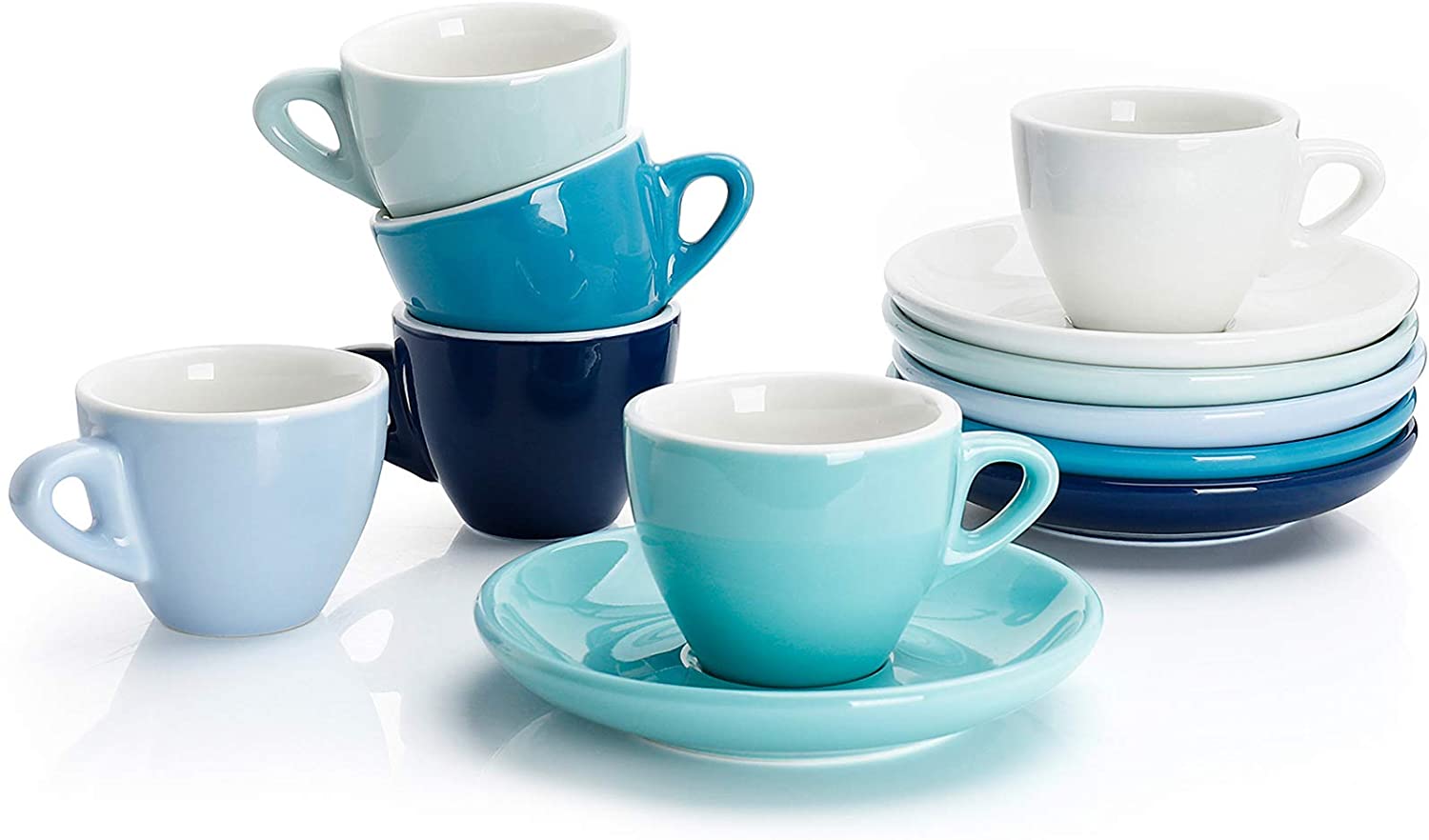 This collection of espresso cups is built to unleash our favourite Espresso, Coffee's aromas and strength. The thick walls of the Espresso Cup are to maintain the temperature of the coffee for longer. Stylish and contemporary, every cup is ready and waiting in the morning for a splash of your favourite espresso. This espresso cup set comes in different shades of blue and white.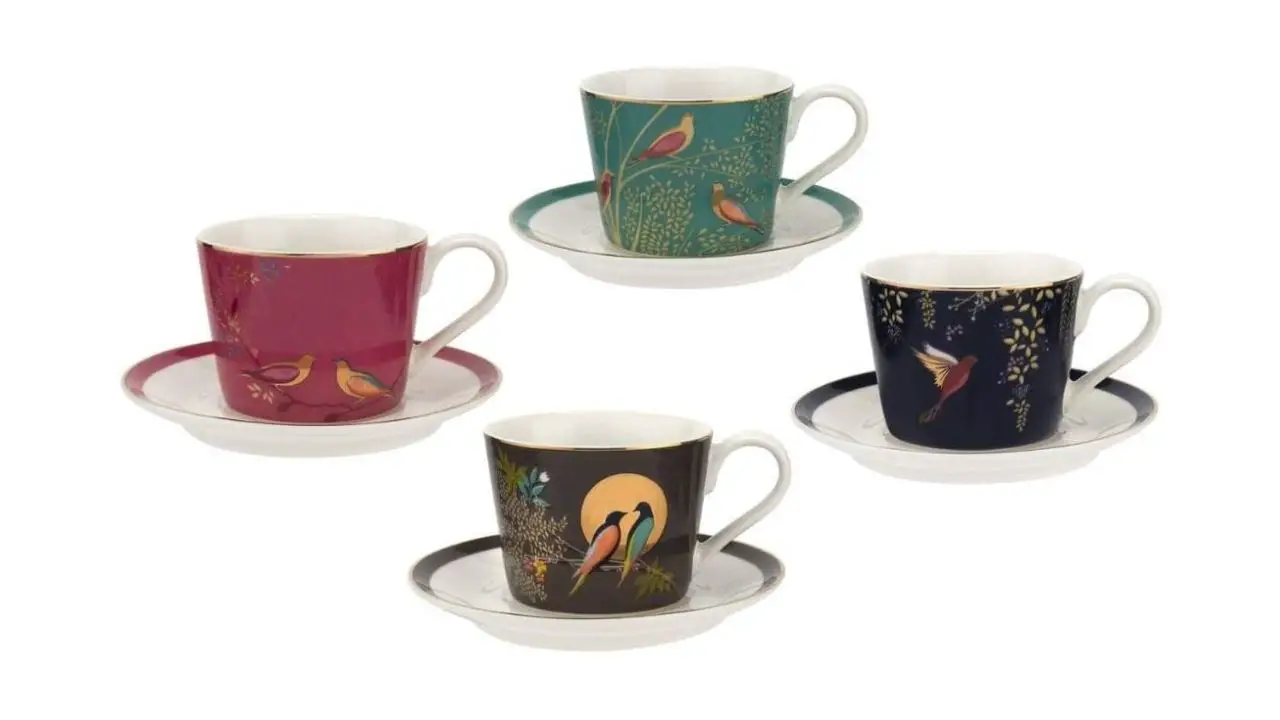 This Sara Miller London Portmeirion set of four espresso cups and saucers will make a wonderful addition to your Chelsea collection. Or in an enchanted garden setting, you can start a new collection featuring an assortment of stunning birds. This will make the ideal gift for any piece decorated with 22-carat gold for any coffee lover.
Pantone has been the leading provider of colour systems for more than 50 years and is recognised worldwide for the language of colours. Room Copenhagen has created colourful items for daily life in collaboration with Pantone and the renowned Knud Holscher Design Company. Refresh your life and be inspired by a rich and uncompromising set. Modern materials with the latest trendy colours and timeless elegance are mixed in this beautiful range of tableware and lifestyle items.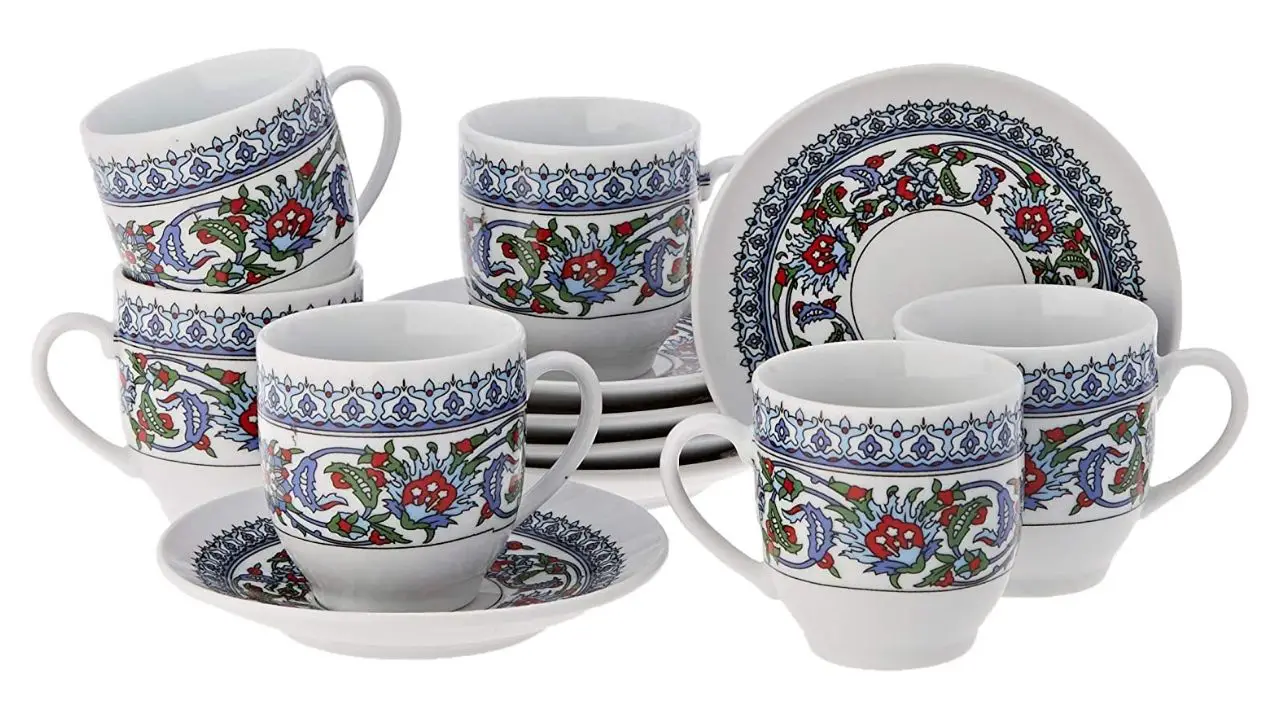 A collection of 6 cups, six saucers and an ornate showcase come in the Turkish Emporium coffee cups set. The style is influenced by the Iznik porcelain used by the Ottoman emperors of old in the Topkapi Palace. There is now this fine porcelain collection available. For Turkish, Greek or espresso coffee, these cups are ideal.
Dine Espresso cups and saucers from LSA International are made from white porcelain, vitrified for strength and longevity. Effortlessly chic, the style complements a range of suitable table settings for both informal and formal entertaining. They come in a set of four, boxed.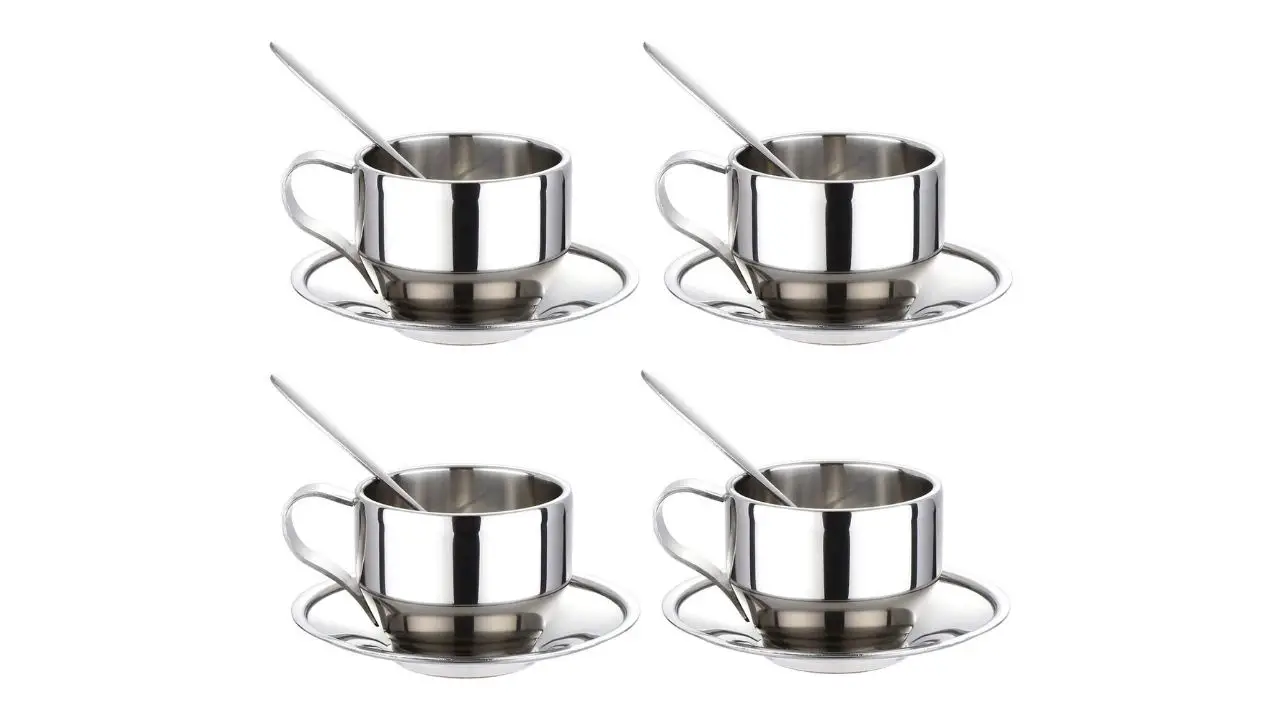 The double-wall insulated design eliminates heat loss and heat transfer to your palm, keeps your coffee warmer for longer and prevents burning from occurring.
These espresso cups are all made of stainless steel. They are non-rusting, sturdy, lightweight, and 100% recyclable. It does not react to any beverages, and any form of food is safe to use.
Exquisite, lightweight size. Superb Contour Holding Ear style. Elegant appearance, perfectly finished mirror, looks fantastic sitting on your tabletop.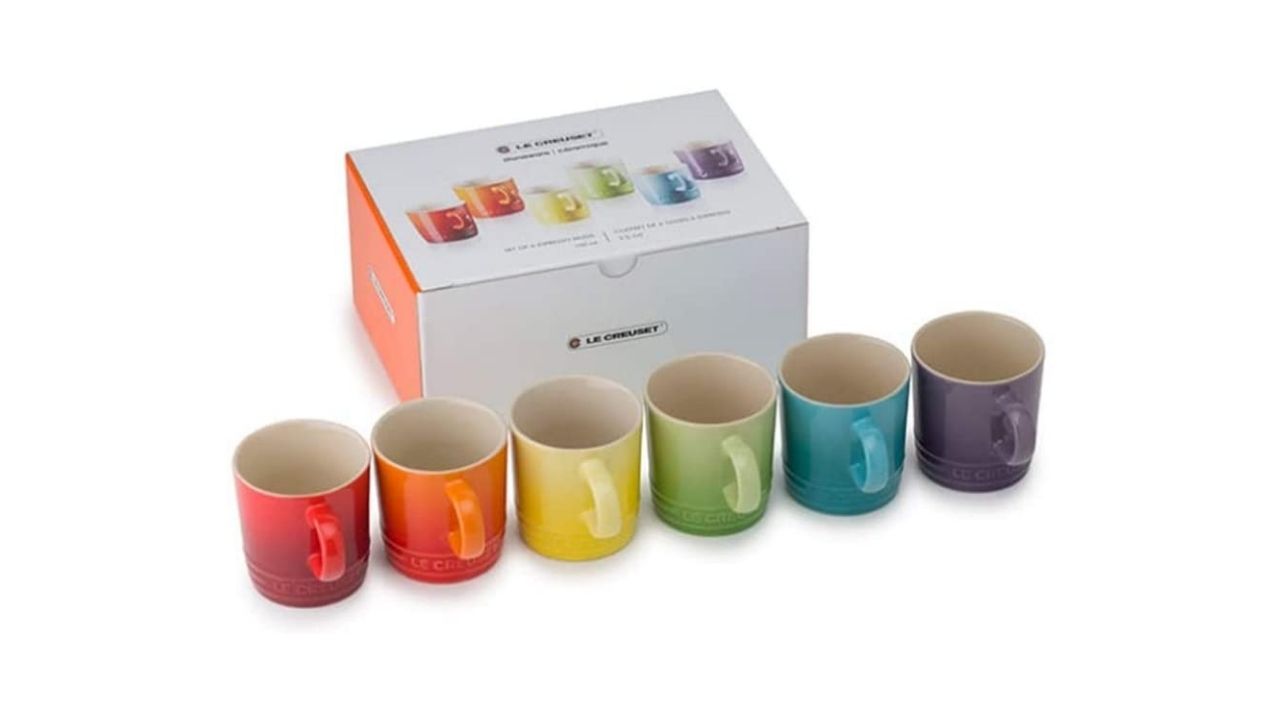 Set of 6 Rainbow Espresso Stoneware Mugs, In rainbow colours incl. Robust style, Packaged in a gift box, Matching rainbow-coloured sets of mini ramekins, tea plates and egg cups available separately, Strawberry, Volcanic, Soleil, Palm, Teal and Ultra Violet Simple to use and clean
Conclusion
We hope you found this guide to the best espresso cups useful, the espresso cup and saucer duos certainly make drinking an espresso more of an occasion and add to the overall coffee drinking experience. For more hints, tips and useful information about coffee – head on over to our blogs section.