Smart coffee makers are set to become a must-have item for your kitchen both at home and in the workplace. Gone are the days when a professionally created coffee is the only coffee that can really satisfy our cravings – the smart coffee machine revolution is upon us. It's safe to say, the future of coffee making looks incredible!
Imagine a smart coffee maker that starts making your coffee before you wake, so that when you do wake-up, you can go straight to the machine, grab your cup, pop a lid on it and drink it on the way to work, the gym, or take the kids to school. No more grab and go cappuccinos from the local Cafe – you can simply grab and go from your kitchen without even having to think about it that much.
Finding the best smart coffee machine to make your latte or americano to perfection can be a challenge, and as smart coffee makers are more than capable yet are such a new addition to the coffee-making market, it can be a challenge to buy the right machine to fulfil your needs from the get-go.
Each smart coffee maker has it's own features that make them desirable to different people and means each of them is smart – but in their own kind of way.
Let's take a look at our top picks for smart coffee machines and makers for 2021 – are these are some of the best smart coffee makers money can buy? We think so!
The Best Smart Coffee Makers To Buy In 2021
Melitta F85/0-102 Barista TS Smart Coffee Machine
Smarter Coffee 2nd Generation With WiFi Bean to Cup Drip Filter
Nespresso Vertuo Plus With Code Reading Technology For Blend-Specific Parametric Brewing
JURA E6 Platinum Coffee Maker
Krups Automatic Coffee Maker CappuccinoPlus
Editor's note: As new coffee makers are launched, we will review them and add them to this list to keep you up to date with the current smart coffee maker trends.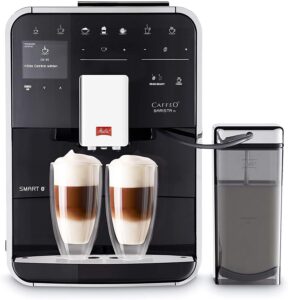 This Melitta smart coffee machine can make an amazing 21 different types of coffee, it's pretty easy to use, and from your smartphone, you can operate it. Operating by mobile ensures you can order a coffee from the comfort of your own bedroom, and your coffee will wait for you when you are up and dressed (at your machine). For various speciality coffees, this smart coffee maker has 21 separate pre-sets.
It has the capabilities of My Coffee memory, double cup pouring, Bluetooth connection, touch screen and several other features. The fully-automatic, smooth-surfaced TS Smart gives the coffee enthusiast an unsurpassed artistic outlet. The Whisper Grinder of the machine ensures a discreet way of high efficiency, whereas, in the home or workplace, clean visual aesthetics complement kitchens.
A removable brewing machine that is dishwasher safe and a welcome-pack cleaning package are also included in this German-designed Melitta coffee maker to enable the use of automatic cleaning and descaling features. Espresso, cappuccino and latte macchiato, flat white, americano, and espresso doppio are examples of the 21 pre-set options prepared by TS Smart. The container for the milk is removable and fits in any refrigerator comfortably.
This intelligent coffee machine from Melitta is compatible with the Melitta Connect app. This means you can monitor your coffee preparation remotely and handle other characteristics of this all-in-one Melitta coffee maker. A steady coffee flavour rotation is provided by an airtight double-bean chamber. In addition, the TS Smart provides separate hot-water access for tea service and a coffee chute pre-ground.
Who Are Melitta? 
Since 1908, when founder Melitta Bentz created the world's first paper filter bags, Melitta has been a pioneer in the coffee industry. Now, 20 billion filter bags are used on an annual basis worldwide, and this diligent German company continues to lead the way in creativity related to coffee, designing and retailing the highest quality coffee goods.
Who Is This Melitta Smart Coffee Machine Best Suited To?
This smart coffee maker is ideally suited to households who love coffee made from a barista, who love a new gadget and have a good amount of space available on the countertop.
Although it is a complicated machine, thanks to the intuitive controls and great design, you will be brewing your favourite coffees with ease and in almost no time at all.
The Melitta is a device that offers a variety of coffee drinks without needing the user to have any barista skills. It's fully automatic, it's a problem-free device, and on the countertop, it's a stunner.
How Easy Is The Melitta F85/0-102 Barista TS Coffee Maker To Use?
I found it beautifully easy to set up and use, taking less time to initially get ready and start brewing coffee than many of its less flexible rivals, while this machine is sophisticated. I may make one drink at a time, or make two of the same coffee at the same time.
Beans enter the space at the top: for espresso-based drinks on the left, and coffee-cream-based variants on the right, so you can use the right beans for the type of coffee. According to the drink you choose the device will then use the appropriate chamber. As with the ground coffee chute that you can use instead, I found this easily accessible for filling.
I either needed to click the right button to make drinks. or scroll through the 'Recipes' to choose from a wide range of other coffees. I found that both are very easy to do. It also showed that preparing milk froth was a piece of cake. All I would do is add milk to the container, attach the hose and push the right drinks button. The coffee maker added the frothed milk to the coffee automatically as it was dispensed, and the results were stupendous.
I noticed that there was a lot more I could do to get the beverages I needed. Before or during the preparation of a coffee, it was possible to adjust settings for more intensity and a more powerful coffee aroma. You can even store friend's and family's favourite drinks so you can click on their name whenever you want to make them a drink.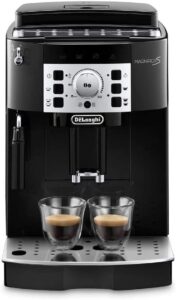 This machine from Delonghi Magnifica is an updated and somewhat improved version of the ESAM4200 that is the best value coffee maker on the market for bean cup machines.
If you know anything about that coffee machine, then all you really need to know is that this is a newer model, but it's been refined. The machine shape and the control structure make it look very different. You get a better froth from the coffee machine's manual arm in terms of performance, and the cleaning options seem to be a little quicker and more reliable than other machines I've tried.
Who Are De'Longhi?
De'Longhi, an Italian company founded in 1902 in Treviso, began manufacturing portable heaters and air conditioners, something it is still proud of and has since grown to be a global manufacturer of small domestic appliances for food preparation, cooking, cleaning and ironing. De'Longhi sells a trendy mix of appliances such as kettles, toasters, grills, barbecues, deep fryers and some of the best coffee machines, as well as producing a wide variety of coffee makers, grinders and accessories.
Who Is This De'Longhi Smart Coffee Maker Best Suited To?
This De'Longhi Smart coffee maker is for people who love their coffee and want to be able to make the perfect cup of whatever coffee takes their fancy at home.
How Easy Is The De'Longhi Magnifica S Smart Coffee Machine To Use?
This Magnifica S machine is very easy to use as you'd expect from a famous home and kitchen appliance brand like Delonghi. Getting it set up and out of the box should be simple and easy, and while you will inevitably have to spend a little time getting used to its functions, it's a much easier model to learn than many other machines, especially those designed to cater to those who are funnier about their coffee and how it should be made!
We have repeatedly noticed that without having to learn a lot, most of our readers are looking to get great coffee at home, and that explains why Delonghi's machines sell so well. For most people, the Magnifica range is fantastic, adjustable in terms of coffee intensity and drink size. They are easy to get the hang of, and it's very unlikely you'll go far wrong when using it or wondering how to change the settings back. It's pretty simple when you get the hang of it.
Smarter Coffee Makers That Coffee Lovers Will Adore
Over the past 5 years, coffee machines have been designed to be "more smart." You can communicate with some coffee machines using Alexa, Google Home, remote control and your smartphone. Here's a few that don't just make coffee but are future-focussed, progressive, and are some of the best coffee machines around.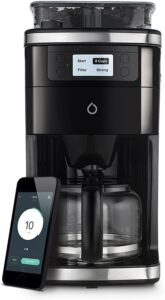 The Smarter Coffee the 2nd Generation is an easy and convenient addition to the home, guaranteeing an enriched brew every time. The days of waiting for ages in the kitchen for the coffee to finish brewing are gone, an imperative for all coffee lovers.
Smarter Coffee is like having your own, personal Barista in the kitchen, It allows you more time for the important things in your life and by using the Smarter app. It's available to download on any iOS and Android smartphone and allows you to remotely control your coffee. Smarter Coffee allows you to have unprecedented control over which coffee you drink and when you want one – all from your smartphone. Begin the day on a lighter note with a fresh batch of coffee by setting Wake Up mode alarms on the coffee machine so you can start drinking it as soon as you get up. This is definitely one of the best smart coffee makers you can get that has smart features and it's pretty reasonably priced considering the quality of the drinks this coffee machine makes.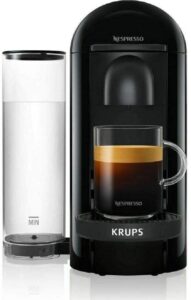 Both VertuoLine coffee machines use the Centrifusion technology from Nespresso, where the capsule spins to brew the coffee at 7,000 spins per minute. The Centrifusion process is ultra-quiet on the VertuoPlus machine where it can get a little noisy on the other versions.
If this is going to be your first VertuoLine Nespresso coffee machine, it's certainly worth it to go for the VertuoPlus. Although enjoying the same delicious coffee consistency, you'll be getting the best concept yet. But we don't think it's worth upgrading if you already have a Vertuoline or Evoluo. The same VertuoLine Nespresso pods can be brewed by all these coffee machines.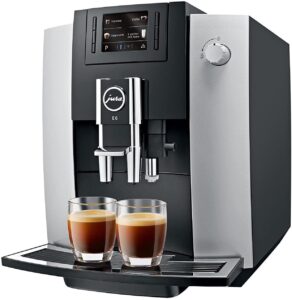 In terms of the quality of coffee this coffee machine makes, as well as its outstanding construction quality and stunning aesthetic, the E6 is up there with one of the best smart coffee makers on the market.  It has a range of useful and attractive features for fitting larger cups or glasses underneath. It has a full colour LCD display, a water filtration system, and a nozzle that can be adjusted both length and width.
On the other hand, this coffee machine is fairly pricey and does not include a milk tank, instead, forcing you to use your milk carafe and the milk nozzle provided. The machine is great, don't get me wrong but if you want to buy a matching milk tank for the machine then it's likely going to set you back around £150.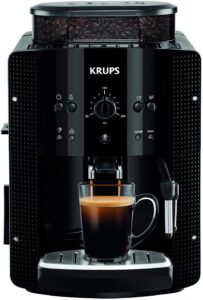 The KRUPS Automatic Espresso Coffee Maker comes with the promise of a great cappuccino, and we can say that YUP it's pretty darn good. It's a pretty small but great-looking machine. This is a 1.5 bar bean cup machine that does nearly everything for you. It grinds, brews and produces various forms of coffee – all at home in your kitchen. All you'll have to do is drink it. It's reasonably priced and looks great on the kitchen worktop.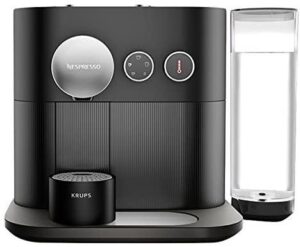 There are some great new developments under the sleeve of the Nespresso Expert espresso machine, but the first thing to note about this wonderful coffee machine is its appearance. The sleek, streamlined style is built to be displayed and shown off while compact enough to be able to be tucked away. To put it plainly, it is magnificent!
The Nespresso Expert espresso machine has excellent Bluetooth features that enable you to control your coffee maker with your smartphone or tablet. You'll be able to order yourself a coffee from your coffee machine that can go from bean to cup in a matter of minutes ready for you to collect from the kitchen and if you like a fresh cup of coffee when you leave or get home from work then you can schedule in a time for when you want your cup of coffee to be made for you.
It's surprising that even now in 2020, as we go into 2021, there are still only a few smart coffee makers available to purchase. Even still – the available coffee makers are 100% worth your time and money. With that said – there are several "smart" coffee machines, that have been on the market for years but they simply go by another name like 'automated coffee machine'; 'automated coffee maker' and so on. The smart coffee makers that we have mentioned above can be app-controlled and you don't even have to be home to start making yourself a cup of coffee – exactly the way you like it.