Brewing the perfect cup of coffee at home can be a challenge. It would be nice if we could make our own costa or Starbucks style beverages ourselves, but instead, we carry ourselves off to coffee shops when we could be saving ourselves a lot of time and money.
By investing in a barista-style coffee machine, you could wake up to a professionally tasted, well-brewed cup of your favourite roasted coffee – every single morning!
If you prefer cappuccino, macchiato, espresso, mocha, ristretto, or plain old filter coffee, only the best coffee machines can consistently deliver the results you want. The problem is that selecting the right machine for you depends on your preferred coffee and how much time, effort, and money you want to put into the brewing process.
If you're not sure what you're looking for, keep reading, and we'll walk you through the different styles of coffee machines and their advantages and disadvantages. They include the best manual espresso, bean-to-cup, pod and capsule, and filter coffee machines we've ever reviewed, as well as links to our complete, in-depth reviews if you scroll down a little further.
What Is The Best Coffee Maker Under £500?
De'Longhi Magnifica, Automatic Bean to Cup Coffee Machine
The Delonghi Magnifica is one of the best coffee machines on the market if you don't need an automatic cappuccino feature – particularly considering the low price. It makes a lovely crema and a rich espresso, as well as thick foam for milky coffees. It's a fantastic choice.
It's a mid-range model that has been on the market for a while. It lacks some of the more sophisticated features found in newer coffee machines but makes up for a beautiful interface and delicious espresso. Let's look at its features and architecture in more detail.
It has a stylish style that would look great in any modern kitchen. It has a dial-based control panel and comes in two colours: ESAM 4200.S (silver) and ESAM 4200.B (black). Although it lacks the sophisticated LED panels found on more modern machines, many people prefer a more tactile control system.
If we had one criticism, it would be that the exterior is more plastic rather than metal. However, it doesn't seem cheap or tacky, so this isn't a big flaw.
Delonghi obviously put a lot of work into developing the ESAM 4200 while keeping the average coffee enthusiast's price within reach. It has a new brewing machine, thermoblock (for maintaining a constant temperature), double boiling system, and Delonghi's revamped integrated grinder.
How Big Is The Delonghi Magnifica?
The 28.5cm x 37.5cm and 36cm (WxDxH) measurements are typical, though it isn't the smallest model on the market. It also weighs 10kg, making it a fairly large rig.
Value for Money
The Delonghi Magnifica costs less than £500 and is a fantastic value for money machine. It isn't the lowest priced bean-to-cup coffee maker on the market, but few in this price range can match its usability, longevity, and coffee flavour.
The advanced monitor, smart features, and other bits and bobs found on newer models are not present on the ESAM4200. Still, it is a fantastic system for consistently delivering aromatic and tasty espressos.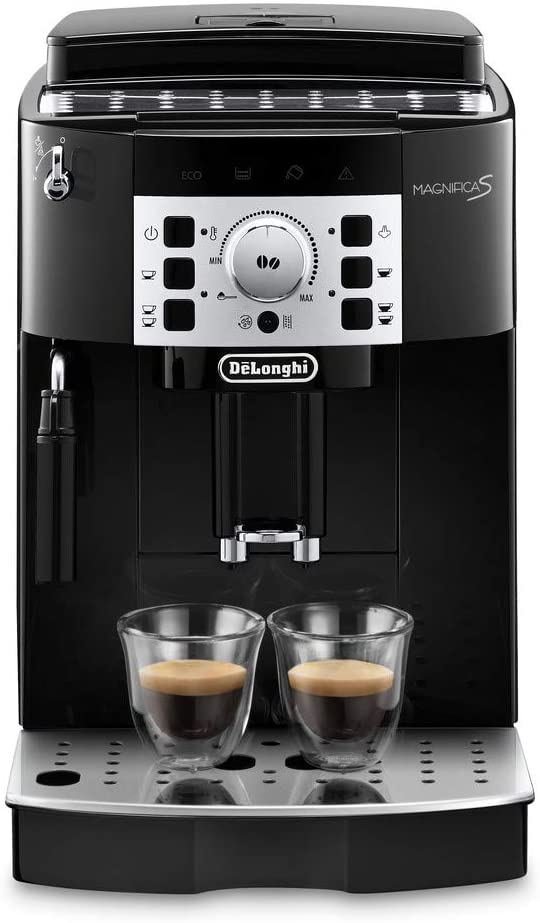 Melitta SOLO & Perfect Milk E957-103 – One of The Best Bean To Cup Machines
Melitta Bentz first invented the coffee filter – that was back in 1908. Since then, they have stood for coffee pleasure, setting the groundwork for modern coffee enjoyment. This coffee pleasure inspired us then and continues to inspire us now to provide the highest quality and most special coffee enjoyment with expertise, inventiveness, and a passion for the product. Now you can enjoy this bean to cup coffee machine and automatic cappuccino maker by Melitta.
Value For Money
The Melitta Caffeo Solo & Perfect Milk E957-103 is a reasonably priced bean-to-cup unit, costing under £500. When you consider the price of a coffee grinder and a coffee maker separately, you'll see that this machine is great value for money. To get our expert opinion on the coffee, read our Melitta bean-to-cup coffee machine review below.
Overall Opinion
Simply put, this versatile machine is simple to operate while offering a wide range of coffee-making choices, allowing you to consistently make the perfect cup of coffee just the way you want it. Forget instant coffee, and forget about going to your favourite coffee shop; this stunning machine will provide you with deep, full-flavoured coffee that rivals that of a professional barista.
Check Price at Amazon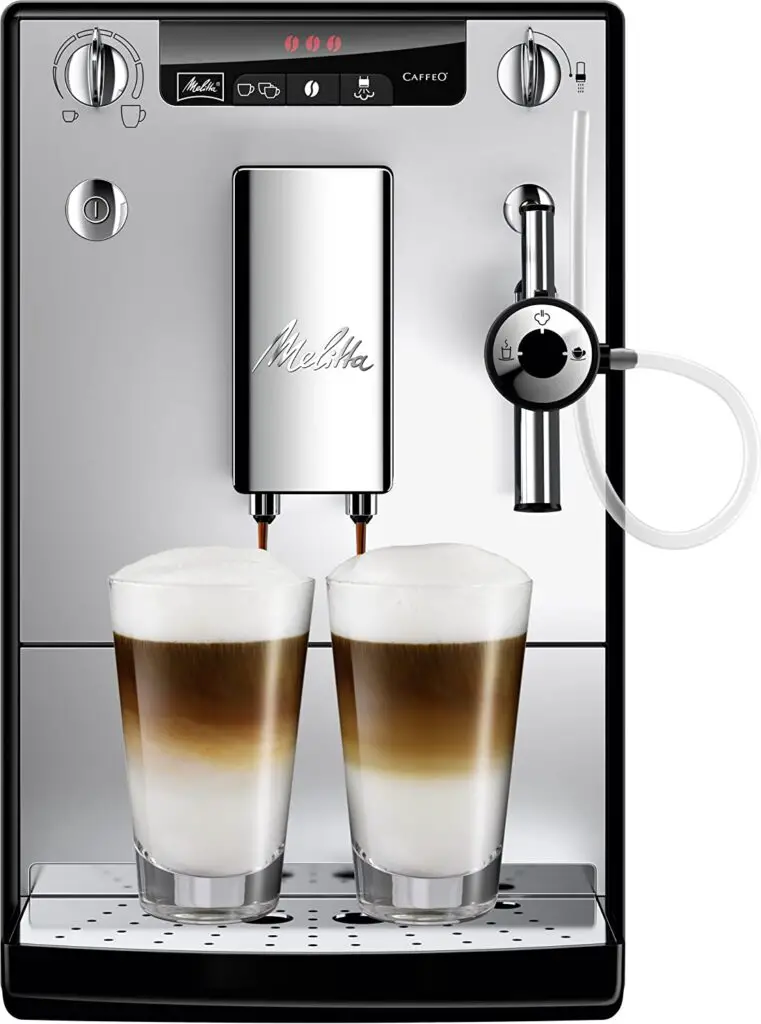 Nespresso 11319 Citiz and Milk Coffee Machine White by Magimix
The Magimix Citiz and Milk Nespresso Coffee Machine's revised retro nature provides style and performance at the touch of a button. This smart coffee making machine is energy efficient and saves time thanks to its fast 25-second heat-up time and auto shut-off after the last use (9 minutes). This machine's compact nature makes it suitable for use in the kitchen. Tiny or big cups, mugs, or latte glasses can be accommodated by the programmable cup size and sliding cup support. Discover the coffee with an assortment of 16 Nespresso capsules.
Value For Money
The basic CitiZ is available in two versions: the original Krups version and the newer Magimix version. The only noticeable difference is in the design: the Krups front panel has holes, while the Magimix uses horizontal lines. It is, however, worthwhile to shop around. Prices ranged from £120 for the Krups edition to £180 for a gleaming chrome-panelled Magimix version at the time of publishing.
The CitiZ works with all of the classic Nespresso capsules that can be purchased online or in-store, as well as third-party capsules labelled as Nespresso compatible. However, it is incompatible with Vertuo capsules.
It makes two sizes of black coffee: Espresso (40ml) and Lungo (110ml), and thanks to the quick 25-second heat-up time and easy one-touch buttons, you can go from pod to cup in under a minute which is pretty good value for a coffee machine under £500.
Our Overall Opinion
The Nespresso CitiZ is extremely fast, easy, and hassle-free to use. The CitiZ, like the rest of Nespresso's machines, heats up in only 25 seconds, while some, like the Creatista Uno, take as little as three.
It's incredibly simple to use. Simply raise the lever, put your cup under the spout, and press the espresso or lungo button. In as little as 20 seconds, you'll have a silky black coffee. When you lift the lever again, the capsule will fall into the bin below. When it's finished, it easily slips out of the machine's main body. You can throw away your capsules in the trash or, if you prefer, Nespresso provides a free capsule recycling program.
There were some minor differences in the amount of coffee pulled through the machine and the time it took for each to pour during testing. However, repeated tests with the same capsule blend revealed that these differences did not appear to have much of an impact on the coffee's flavour. Each black coffee was served with a generous amount of crema, which tasted wonderfully silky.
De'Longhi Lattissima Pro Coffee Machine
The user-friendly interface Coffee pods are used in the De'Longhi Nespresso Lattissima Pro EN750MB Coffee Machine to help you make fresh and delicious coffee in no time. It's great for cappuccinos. This Nespresso Lattissima Pro EN750MB Espresso Machine is perfect for making heavenly cappuccinos and latte macchiatos with the simple touch of a button. This is thanks to its patented De'Longhi milk method. You'll also be able to make satisfying cups of espresso, double espresso, or caffe latte using compatible Nespresso capsules – the ideal way to unwind.
If you're unfamiliar with Nespresso, it's a pod-based device that brews espresso using hermetically sealed coffee pods. The benefits of using pods over-grinding beans are that the coffee is still fresh, there is no need to measure or grind, and cleaning is as simple as emptying the pod jar when it fills up. The pods come in a variety of roasts, as well as caffeinated and decaffeinated options. In contrast to its rivals Keurig and Tassimo, Nespresso has always been better known for its excellent quality espresso.
Value For Money
Without a doubt, the Lattissima Pro is one of the best Nespresso machines available on the market. It is extremely simple to use, produces excellent beverages, and has the best feature set of any Nespresso model. You'll wonder how you ever lived without one until you've gotten used to having one around, and for less than £500, it's a steal.
What We Think About This Coffee Machine
For the past several months, we've used the Lattissima Pro many times a day, and its consistency has been outstanding over the course of hundreds of espressos, lattes and cappuccinos. The Lattissima Pro heats up quickly (25 seconds for espresso, 40 seconds for cappuccino), so you won't have to wait long to get your caffeine fix. And, once it's wet, the Lattissima Pro will keep churning out drink after drink without stopping.
The drinks are of excellent quality. If you're a regular Starbucks customer, you'll be delighted with the Nespresso's results. Espressos have a rich flavour and a nice crema. Cappuccinos and lattes are served with a thicker foam than previous Lattissima ones (foam density and quantity can be adjusted to your liking). All drinks are served hotter than on previous Lattissima versions, with no need to preheat the cups. In our unit, we usually use skim milk (which works great), but you can also use low fat, whole milk (if cardiologist approved), or even soy milk if you prefer.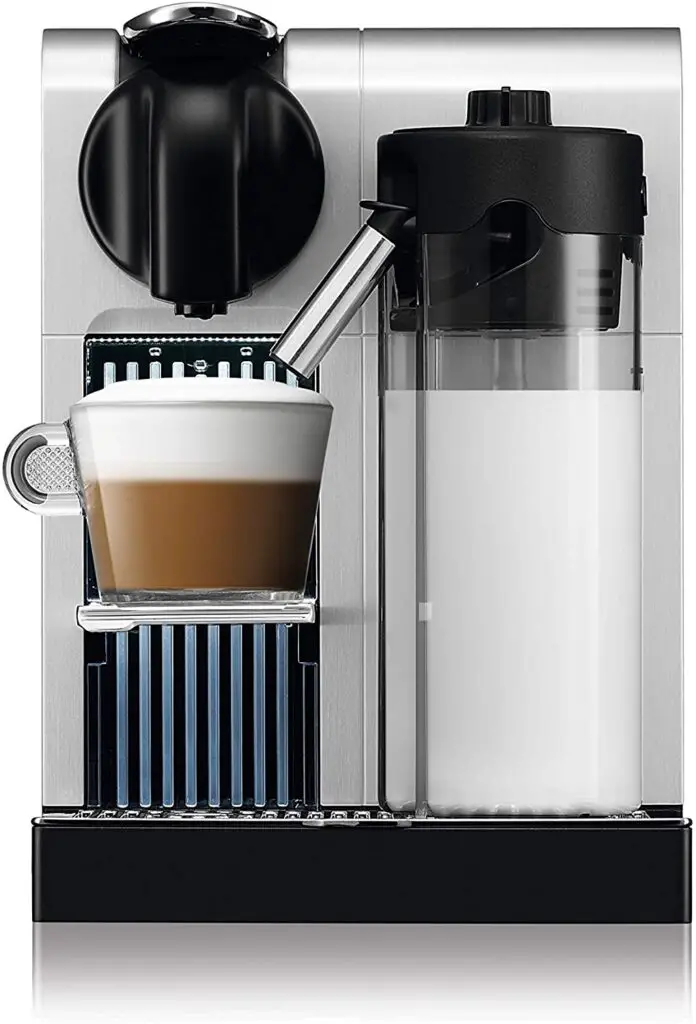 FAQ's
Are Manual Espresso Machines Worth It?
A manual espresso machine, similar to those found in coffee shops, is the best option if you want the ability to make anything from espresso to ristretto to cappuccino. The disadvantage is that you'll have to learn to manually grind and tamp the coffee, steam your own milk to perfection, clean the unit, and repeat the process with each cup. Still, the extra control allows you to get the most out of any coffee variety.
Pros: Best-tasting coffee; flexibility | Cons: Time-consuming; messy
Are Bean-To-Cup Coffee Machines Worth It?
If making espresso by hand seems like too much effort, a bean-to-cup machine is a great alternative. Simply put water and coffee beans in the machine, and you'll have a shot of coffee at the touch of a button – without having to clean the machine between shots. Integrated milk frothers that dispense a cappuccino or white coffee at the touch of a button are available on more expensive devices. However, the results are never as good as those generated by manual machines, and prices start at about £400.
Pros: Simple to use; good coffee | Cons: Expensive; need daily cleaning
Coffee Pod Vs Coffee Capsule Machine?
This is the most basic choice of them all, with basic machines starting at about £50. Each pod or capsule contains the ideal amount of coffee to choose the strength and flavour you want. They're hard to beat for no-fuss, no-mess coffee that tastes consistently nice. Some devices have built-in milk frothing, allowing you to make a latte or cappuccino with a single touch of a button. However, the results aren't as good as manual espresso or bean-to-cup machines, and pods can be expensive.
Pros: Quick, consistent results; mess-free | Cons: Coffee pods can be expensive
Should you buy a filter coffee machine?
A filter coffee machine is a great option if you just want plain and easy coffee to fill a cup or if you want to be able to make enough coffee for many people at once. Although most of these need ground coffee (although a few do have built-in grinders), they're a good choice for making easy, fuss-free black coffee.
Pros: Cheap, quick, easy | Cons: Only makes black coffee
We hope you found this article useful – we've reviewed some really great bean to cup espresso machines, coffee machines with a built in milk frother and fully automatic coffee machine and out of all of them these were the best coffee makers we found that cost less than £500.